The Wolf Watch Winder and Watch Boxes
Luxury watch accessories for storage and travel
Wolf watch winders are suitable for every type of wristwatch with an automatic movement from vintage timepieces to modern sports watches. Once you've made an investment in a top quality watch you want to make sure you keep it running it's best and stored properly. Place the watch on one of the winding modules secured with a lock in cuff, which is framed by a locking glass cover to ensure utmost protection during the rotation programs. While it's not in use, keep your timepiece in the best condition by storing it in a Wolf watch box or travel watch case to prevent dust. Available in a variety of finishes from black pebble faux leather to python, their watch rolls are the perfect accessory for the avid traveler to keep your timepiece protected during travel.
Wolf Watch Winders & Cases
Wolf Watch Winders Patented Technology
Their patented turn counting system assures that your watch will be wound optimally but never over wound with its extended pause and sleep phases to mimic one's daily routine.Through normal wear, most watches mainsprings only get wound up to 50-60% of their power. Using a Wolf winder will keep your mainspring powered up to 80% which ensures your watch will run accurately when you wear it.
Wolf's higher end models come with the option of programming the watch winder to rotate clockwise, counterclockwise and bi-directional. To find out which is optimal for your watch it is best to go with the watch manufacturer's recommendation for the winding direction and the optimal number of turns per day. If you happen to have a watch with a power reserve, many wolf watch winders also come equipped with a programmable start delay allow for the mainspring to release its tension and then begin to wind again.
Which Wolf watch winder is right for me?
The first thing to look at is the number of automatic watches in your collection. If you have only one watch you wear to work or formal events and you are interested in keeping it wound over the weekend, you could consider the Wolf Cub Single watch winder. Not only does it look great—it also offers you the versatility to power it by AC or AA batteries if you wish to keep it in a vault. Just a few? The Wolf Double watch winder makes the perfect gift.

Wolf offers winders for 1, 2, 3, 4, 6 and 8 watches in a variety of gorgeous finishes. If that is not enough check out the 1834 collection of bespoke wolf watch winders. These are for the serious collector and can store up to 32 watches in their Ambassador cabinet models and up to 16 pieces in the Atlas Safe collection. For your convenience these winders can be programmed via the Wolf app on your smartphone. The safe winding models are all built right here in the United States and pass Underwriter Laboratory's most rigorous testing requirements. These high end Wolf watch winders come with white glove delivery and set up to make sure your experience is nothing but the very best.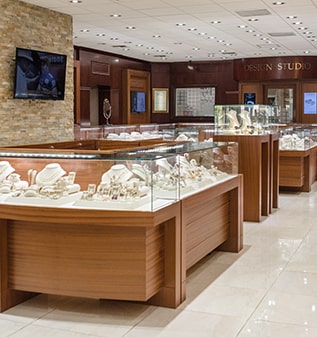 Visit us in real life.
4210 N. Federal Hwy.
Lighthouse Point, FL
33064
Visit us
Store location
Mon-Sat: —
Sunday:

Closed
4210 N. Federal Hwy.
Lighthouse Point, FL
33064
Save up to 15% on your first order.
Receive email updates on stuff you'll probably want to know about, including products, launches, and events. Unsubscribe anytime. Some exclusions apply…