Types of Metals
Tungsten Carbide Rings
Tungsten carbide is the most widely used of alternative metals for mens wedding bands today. These tungsten rings are rugged, scratch resistant, and very durable. That being said, although they are scratch resistant if you drop the ring hard enough it could break, due to the rigidity of the metal.

Men's wedding rings made of Tungsten Carbide usually range from dark gray to silver in color. Although there are many different designs, including rings set with diamonds, the most common finish on these rings is a satin finish with high polish highlights. Tungsten is very comfortable as it is medium in weight when it comes to wedding rings.
Damascus Steel
For a unique mens wedding band, a ring made of Damascus steel is an affordable option. These rings feature a natural design element made from folding the steel repeatedly called pattern welding.

If you plan on wearing your wedding ring all day, everyday, you must be careful where you wear it to. You should not be wearing these rings to the beach, pool or in the shower. Due to the metal composition of these rings, they are susceptible to rust
Cobalt and Black Cobalt
Rings made of Cobalt are becoming more popular and are now probably the second most common of alternative metal wedding rings. Cobalt rings generally have a more gun-metal tone. Harder than precious metals, Cobalt is shatterproof, scratch and corrosive resistant and good for everyday wear.

Many of the black rings for men that we sell are made of Cobalt. The black carbon material has been carefully baked onto Cobalt to give the ring it's color. This means that your ring will stay black for the duration of wear.
Meteorite
Rings incorporating meteorite are available in many different styles. These rings are not made entirely of meteorites but rather have a sleeve of the material inset in the ring. Each pattern of meteorite is completely natural and therefore unique to your ring. This gives your ring a touch of elegant personalization.
Can an alternative metal ring be sized?
One thing to note is because of the types of steel that these rings are made of, they are unable to be re-sized by a jeweler. If you plan on gaining or losing weight, finger sizes do change. But, many of these designers do have an exchange program to circumvent this if it is an issue.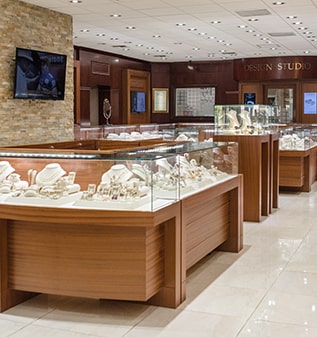 Visit us in real life.
4210 N. Federal Hwy.
Lighthouse Point, FL
33064
Visit us
Store location
Mon-Sat: —
Sunday:

Closed
4210 N. Federal Hwy.
Lighthouse Point, FL
33064
Save up to 15% on your first order.
Receive email updates on stuff you'll probably want to know about, including products, launches, and events. Unsubscribe anytime. Some exclusions apply…