Womens Yellow Gold Wedding Rings - Timeless Elegance
A piece of jewelry can easily define who you are and your wedding band should be no different! If you lean towards yellow gold then your style is enduring and classic. Still the most popular choice gold tone to wear as a symbol of your marriage, the yellow gold wedding band never goes out of style.

Womens yellow wedding rings come in many different variations and styles to match that beautiful yellow gold diamond engagement ring he proposed to you with. Our selection of womens wedding rings are available in the most simple and delicate vintage styling or extravagantly modern designs.
What different styles are there?
While many the most traditional wedding ring a simple shiny gold wedding band, many of the yellow gold wedding rings we feature are decorated with diamonds, sapphires, rubies or emeralds. Diamond rings are a perfect way to add a bit of sparkle and precious stones can add color in your wedding ring.

Emeralds are beautiful and make for an amazing cocktail ring, however, we suggest not wearing emeralds for every day. Why? Emeralds are the softest of precious stones and can easily chip or break. Depending on your lifestyle however, they may be the perfect match for you.
Is the gold used in Jewelry pure?
The wedding rings that we and our design partners craft are available in two types of gold; either 18 karat or 14k karat gold. Pure gold, known as 24 karat is almost never used because it is not durable enough to be worn. Many of the styles you will find on these pages are available in different tones as well, either rose gold or white gold rings.
White gold vs Yellow Gold, what should I choose?
Your wedding band is something that you will wear for most of your life and no one knows your style but you. But here's some things to consider: Yellow gold retains its vibrant color forever and can be restored easiest of all the gold tones with very little labour. Of course this can change depending on how many stones are set in the band.

White gold must go through a very time consuming process and refinished more often because gold is not inherently white. It is rhodium plated and therefore will turn off-white over time. It is somewhat expensive to restore a white gold ring to its original luster.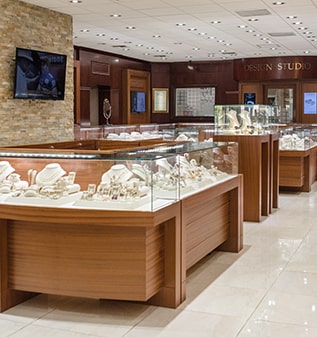 Visit us in real life.
4210 N. Federal Hwy.
Lighthouse Point, FL
33064
Visit us
Store location
Mon-Sat: —
Sunday:

Closed
4210 N. Federal Hwy.
Lighthouse Point, FL
33064
Save up to 15% on your first order.
Receive email updates on stuff you'll probably want to know about, including products, launches, and events. Unsubscribe anytime. Some exclusions apply…