Roberto Coin's New Barocco Collection Reinvented & Radiant
By

Nina Glaser
·
September 29, 2015
In the beginning, there was the Barocco collection from Roberto Coin. Gold jewelry that wrapped ears, necks, wrists and fingers in a romantic embrace. A world-famous weave of elegance. Now, there is the New Barocco collection. With its web of reinterpreted, reinvented gold mesh. Intricate earrings, necklaces, bracelets and rings are crafted from threads of 18kt rose gold, white gold and yellow gold. Who would have imagined such a radiant result from unraveled gold?
The patterns of New Barocco pieces are complex and majestic. Lighter and softer. The precious metal is joined by marquise-shaped gemstones. Shapely diamonds dance, bringing a radiance to the wearer. An air of romance.
Wear this precious metal and gemstone jewelry for evening, an occasion or every day. The choice is yours! The style is sophisticated and sought-after.
The jewelry of Roberto Coin tells a story. It starts in Italy and continues with you.
Change is a constant at Roberto Coin. Nature and travel inspire him. Light, shape and color are things to experiment with. He creates nearly 600 new models every year. All are intuitive. Fluid and feminine. Gold is the protagonist in many pieces. He pushes the envelope of design, transcending the latest trends.
More than 1,000 shops in over 60 countries worldwide carry the brand. Countless women wear and adore it.
Roberto Coin is located in Vicenza, known as the City of Gold. The polished diamonds used are conflict-free. The rubies are synthetic, to guarantee the stones do not come from regions in turmoil.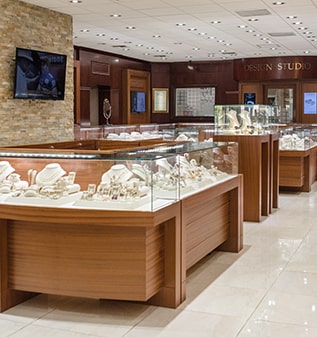 Visit us in real life.
4210 N. Federal Hwy.
Lighthouse Point, FL
33064
Visit us
Store location
Mon-Sat: —
Sunday:

Closed
4210 N. Federal Hwy.
Lighthouse Point, FL
33064