Chimento Jewelry: All in the Family
Chimento is truly a family affair, with two generations involved in the 50-year-old jewelry line. The Chimento story is a one of initiative and willpower.
Today, as before, the firm is in Grisignano di Zocca, a province of Vicenza, the seat of Italy's goldsmith tradition, with Founder and President Adriano Chimento at the helm. Today, as always, the Chimento family puts an emphasis on the study of design and fashion trends, researching the latest technologic solutions to bring the latest and greatest to market.
The relatives all share a passion for their business and its traditional methods. They're proud to have the Chimento logo incorporated into all the jewelry and bear the identification seal *408 VI. The name and identification indicate authenticity and provide a certificate of insurance, valid around the world, which makes provision for the pieces in the event of theft, mugging or fire.
Top-quality 18kt gold is the undisputed protagonist in the brand's elegant, refined and contemporary jewelry creations of organic shapes, with both high fashion and classic collections available.
Chimento jewelry has strong character and standout designs. The pieces exhibit the marks of quality production and workmanship with superior hand finishes. The lines are clean, and the attention to detail is very clear. Call them contemporary, classic, beautiful and easy-to-wear.
The stylish collections that feature gold, diamonds and precious gemstones sourced from the Chimento Gem Laboratory (in-house quality control – an added benefit!), include Aeternitas, featuring diamonds, semi-precious and precious gems like amethyst, citrine, emerald, peridot, ruby, sapphire and topaz; Armillas, available in five textures, three shades of gold and studs, braids and joints; Bamboo Over, where gold gets a graduated vertical layout; Couri, featuring pave, quilted and openwork heart-shaped designs; the chicly geometric Diana; Double and Double Join, reversible pieces that make the most of high-polish and shiny satin; the simple and substantial Dune; Febo, bold pieces created as squares form a circle; Fedi, wedding rings you'll want to make a lifelong commitment to; Infinity, with layers of precious metal that combine with mother-of-pearl, diamonds, precious and semi-precious gemstones; Stardust, ergonomic pieces dotted with dainty diamonds; and Stretch and Stretch Multiple, flexible jewelry with magnetic clasps.
Red Carpet masterpieces include pieces with the names of Audrey, Grace, Elissa, Jacqueline, Katherine, Marlene, Marilyn, Rania, and Romy.
You don't have to be a star to wear Chimento; there's a piece of Chimento jewelry for every woman, whoever she is, whatever she does, wherever she is.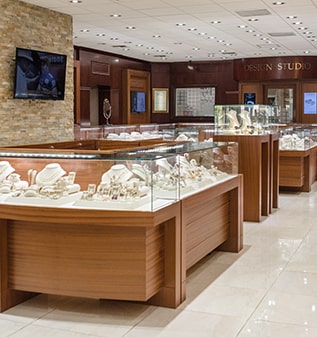 Visit us in real life.
4210 N. Federal Hwy.
Lighthouse Point, FL
33064
Visit us
Store location
Mon-Sat: —
Sunday:

Closed
4210 N. Federal Hwy.
Lighthouse Point, FL
33064
Save up to 15% on your first order.
Receive email updates on stuff you'll probably want to know about, including products, launches, and events. Unsubscribe anytime. Some exclusions apply…