There is jewelry where form follows function and shape means style. Geometric jewelry has dramatic lines and bold patterns. Art and science combine in radiant rings, beautiful bracelets, nifty necklaces and enchanting earrings! There is something comforting in the familiar silhouettes.
Circles are a common theme among designer jewelry. Phillips House uses the figure prominently the Infinity line of its Affair collection. You will find diamond disc necklaces in assorted sizes, and a variety of earring styles, including studs and drops. The sparkling spheres are sure to delight!
Triangles are an obvious inspiration at Lana Jewelry. The brand's Electric collection features a number of pairs of gold and diamond earrings, as well as necklaces that will drape your nape in luxury. Check out the collection's diamond spike dangles, reflector diamond necklace and lariat to see terrific triangular pieces of jewelry! Zoë Chicco embraces the triangular trend as well as the hottest new looks. Look at the Eyelash collection's diamond earring charm and studs, which has a matching necklace, too!
The designs of Chimento Armillas bracelets demonstrate resemble a pyramid. They are available in white, rose and yellow gold finishes, with and without diamonds.
Gladiator rings show that it's hip to be square, when the shape is turned on its side, and display V-formations and chevrons, as well. You will find X rings, interlocking loop, bar, criss-cross and free-form rings, too.
When you want your jewelry wardrobe to take shape, start with some geometric jewelry!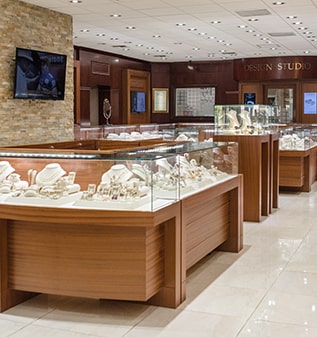 Visit us in real life.
4210 N. Federal Hwy.
Lighthouse Point, FL
33064
Visit us
Store location
Mon-Sat: —
Sunday:

Closed
4210 N. Federal Hwy.
Lighthouse Point, FL
33064
Save up to 15% on your first order.
Receive email updates on stuff you'll probably want to know about, including products, launches, and events. Unsubscribe anytime. Some exclusions apply…