Gucci Jewelry
Italian Design and Flair
Redefining the world of jewelry. The house of Gucci is an international icon with broad global appeal. Gucci jewelry for men and women, an extension of the brand's clothing and leather goods collection, includes rings, bracelets, necklaces, earrings and cufflinks. The line is synonymous with quality Italian craftsmanship and fashion.
The Story of Gucci
Gucci jewelry has produced some of the most beloved pieces for everyone from celebrities to business professionals, and Gucci jewelry is well-known and admired by everyone who appreciates high-quality accessories. Every detail is given the utmost attention and the craftsmanship is simply stunning. Whether you are going out for brunch with friends or you have a black-tie affair to attend, Gucci jewelry is the perfect accent. Gucci incorporates both sophistication and incredible craftsmanship in every piece they create, making the brand a fashionable icon in the arena of fine jewelry. At J.R. Dunn Jewelers, we are proud to offer our customers a wide range of earrings, bracelets, necklaces, rings and more.


The new era of Gucci
In 2015, Gucci hired a new creative director, previously little-known Alessandro Michele. He has been described as mysterious, compelling and daring, and he got his start at Gucci in 2002 as a behind-the-scenes designer. Since taking the helm of the company's creative direction, Michele has revitalized the brand completely by bringing about a revolution within the company, pushing the boundaries of fashion by introducing eclectic, vintage styles paired with sleek designs, and completely redefining the vision and look of Gucci. 

Previously coined as nothing other than chic and sophisticated, Gucci is becoming slightly more unorthodox while still maintaining its sophistication and elegance. Alessandro Michele has introduced house motifs to the jewelry and accessories lines, resulting in new Gucci pieces that are adorned with bees, butterflies, king snakes, stars and more. Many of Gucci's iconic lines hold strong today, such as the Horsebit and Bamboo collections. Newer collections like GucciGhost—a collection influenced by graffiti street artist 'Trouble Andrew', Blind for Love, and Le Marche des Merveilles show the newer influence of Michele's eclectic creativity, drawing people from all over the world to purchase stunning jewelry, clothing, and accessories adorned with Gucci's remarkable touch.

Gucci is absolutely iconic all across the globe. Although it was founded in Florence, Italy, it has produced stunning pieces of jewelry, accessories, and other fashion items that appeal to individuals everywhere and that are instantly recognizable. Because everything that Gucci produces nods to the high-quality sophistication that the brand was founded on, each item in every Gucci line pairs well with others.


Gucci Women's Jewelry Selection – A Gucci Piece for Any Style
Our selection of Gucci women's jewelry is filled with exceptional pieces that will delight the eyes and add instant style to any outfit. Whether you are giving Gucci jewelry as a gift or treating yourself, there is something for everyone. From chic, elegant and bold to playful, colorful and innovative—Gucci covers the full gamut of creativity and design, satisfying every style preference out there.

The full selection of Gucci jewelry includes rings, necklaces, bracelets, money clips, cuff links, keychains and more, including newly designed pieces to recognize the GucciGhost. Many Gucci men's pieces also incorporate the iconic house motifs of bees, tigers, snakes, skulls and the iconic Gucci interlocking G.  

Take the time to preview our entire Gucci collection to ensure you find the jewelry that speaks to you. Pay attention to the details and designs and know that all the jewelry stands alone as statements of sophistication, but each can easily be paired with other pieces as well. Whether you want to go with a classic Gucci Charm or you are interested in a ring that expresses who you are, make today the day that you finally give yourself a gift that will last a lifetime. 


The History of Gucci
The House of Gucci was founded by Florentine Gucci Guccio in 1921. The brand is synonymous with high fashion, Italian style, traditional craftsmanship and, to a lesser-known extent, global consciousness. Gucci's lifestyle items – from handbags to shoes, fashion collections, children's clothing, small leather goods, jewelry and fragrances – are opulent, artistic and glamorous. The brand's artisan quality and unparalleled design can be seen in each and every article; the GG logo or Gucci scripted signature is a prominent mark on every item as well. The fusion of past and present, history and modernity is self-evident. These characteristics are what sets Gucci apart, making it one of the most renowned and successful Italian brands.


Stilo Italiano (Italian Style)
This historic timeline of Gucci provides insight into some of the brand's current jewelry design motifs. The leather goods company and small luggage store Guccio Gucci opened in 1921 was inspired by his stint at London's Savoy hotel, prompting the production of pieces that combined the refined aesthetic of English nobility with the master craftsmanship of local Tuscan artisans. It was during the '20s that the GG icon's interlocking Gs, inspired by the initials of the company's founder, was created. (It was reintroduced in the late 1960s in its original diamond-shaped print.) This logo is undeniably connected with the Gucci name.

In the 1930s, the equestrian-inspired collection of bags, trunks, gloves, shoes and belts experienced great success, thanks to the business of the sophisticated travelers flocking to Florence. It was during this time that diamond pattern of the Diamante collection was developed. In the 1940s, Gucci begins experimenting with atypical luxury materials, including hemp, linen and jute. One of the innovations to emerge from this time was burnishing cane to create the handle of the Bamboo bag, whose curvy side was inspired by the shape of a saddle. During the 1950s, equestrian inspiration appeared again, with the introduction of the Horsebit motif as a decorative element on handbags, and the trademark green-red-green web stripe derived from a traditional saddle girth. It was during this decade that Gucci's founder passed on, leaving the business to his four sons.

The House's timeless designs were cherished by the world's movers and shakers in the 1960s, including First Lady Jacqueline Kennedy Onassis, filmdom's Elizabeth Taylor and Peter Sellers and literature's Samuel Beckett. It was during this decade that the moccasin with Horsebit hardware became part of the permanent collection at the Costume Institute at the Metropolitan Museum of Art in New York City, the iconic Flora silk scarf was created by illustrator Vittorio Accornero from a personal request by Princess Grace of Monaco.

Gucci's philosophy is "Forever now," as the brand "celebrates the creativity of the past as an inspiration for the future." The jewelry line consists of rings, bracelets, earrings, cufflinks, necklaces and pendants in 18kt yellow, white and rose gold, with and without diamonds. Some of the pieces are embellished with colored stones. Sterling silver is also used to craft the Gucci fashion jewelry line. A fine jewelry line offers a range of engagement rings and wedding bands.All Gucci jewelry is developed, handcrafted by highly skilled goldsmiths and manufactured in Italy.


Gucci Sustainability and Philanthropy
The House of Gucci seeks to progressively reduce its environmental footprint and is actively involved in initiatives that support women's rights and preservation of the arts:


Since 2010, 100 percent of Gucci's packaging is recyclable; a sensitivity to the environment in keeping with the grand's heritage of quality and excellence.
Chime for Change" is a global campaign for girls' and women's empowerment, founded by Gucci Creative Director Frida Giannini and Beyonce Knowles-Carter.
In collaboration with The Kering Corporate Foundation, Gucci helps to combat violence against women, promoting their dignity and rights.
A long-term partnership with UNICEF, beginning in 2005, supports women's and children's programs in Africa and Asia.
Since 2006, Gucci has worked closely with Martin Scorcese's The Film Foundation to fund the digital restoration of cinematic masterpieces. The House is committed to adding one film each year to the growing collection of titles.
A partnership with New York City's Tribeca Film Institute (TFI), beginning in 2008, supports documentary film as an important artistic medium through the Gucci Tribeca Documentary Fund, offering finishing funds to engage feature-length documentaries highlighting worldwide issues of social importance.
Additionally, Gucci has been certified by the Responsible Jewellery Council (RJC), meeting the highest ethical, social and environmental standards established by the RJC's Member Certification System.
Accolades
The European Business Press Federation named Gucci "European Company of the Year 1998" and the Nielsen Company dubbed the label the most desirable luxury brand in the world in 2007.In 2011, the Gucci Museo (Gucci Museum) opened in Florence's Palazzo della Mercanzia, occupying three floors and 1,715-square-metres.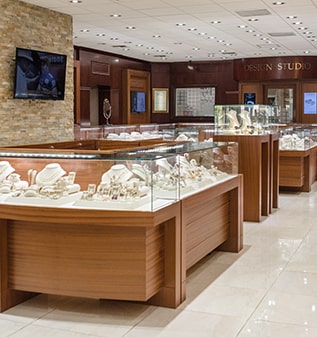 Visit us in real life.
4210 N. Federal Hwy.
Lighthouse Point, FL
33064
Visit us
Store location
Mon-Sat: —
Sunday:

Closed
4210 N. Federal Hwy.
Lighthouse Point, FL
33064
Save up to 15% on your first order.
Receive email updates on stuff you'll probably want to know about, including products, launches, and events. Unsubscribe anytime. Some exclusions apply…