Lana Jewelry
Effortlessly chic and sexy jewelry
Lana Jewelry was founded in 2002 by Lana Bramlette, known as the "Queen of Hoops." The designer's pieces are sexy, streamlined and architectural. Modern, minimalist pieces include earrings, necklaces, bracelets and rings. Layer for a luxurious look and stack for supreme style! Whatever collection captures your attention, you'll find statement-making jewelry that speaks volumes.
Luxury Lana Jewelry for Women
Lana jewelry has quickly become a favorite for women who love simple and elegant pieces. Lana jewelry sports subtle, clean lines, and every woman will find a piece that speaks to her, whether it is hoop or dangle earrings or a layered necklace. J.R. Dunn's Lana Jewelry selection is vast, allowing you to add multiple pieces of stunning jewelry to your current collection. Many pieces pair well with other jewelry, so you can create new, spectacular looks every time.
From classic necklaces and earrings to unique designs that can't be replicated by other designers, you will find there is a piece of Lana jewelry that meets every personal fashion style. The precious metals stand on their own for some of the Lana inspired jewelry, while other pieces will highlight brilliant diamond accents. Lana Bramlette has an eye for fashion and her jewelry is designed to go with anything in your wardrobe, from jeans to formal dresses. You can even find Lana jewelry that is ideal for brides, bridesmaids and anyone in your wedding party.
The earrings designed by Lana are unique and flawless. A pair of Lana earrings is the perfect gift for the woman you love, or you can treat yourself to a touch of elegance and beauty. The designer herself created the brand when she was searching for the perfect pair of gold hoops to treat herself to after accomplishing a big career milestone. When you wear your own Lana earrings, trust that you will stand confidently.
The pieces in Lana Jewelry's necklace line are as unique as you! Lana necklaces come in so many styles, from simple to bold and casual to formal. Most Lana necklaces can be worn individually and also layered, creating stunning looks that suit every woman. Many necklaces are all-in-one pieces, meaning they look like two or three layered necklaces rather than just one. The entire Lana necklace collection is made allowing you can layer necklace upon necklace, from chokers to longer iconic and delicate chains. The Blake necklace is a favorite amongst celebrities and fashionistas everywhere and can be beautifully paired with other stunning Lana jewelry pieces. Various metal options and several striking shapes make Lana necklaces unique and incredibly desired.
Lana bracelets are exceptionally bold yet sleek. The gorgeous bangles are elegant and versatile, as they can be worn individually in the various widths, or they can be stacked with other Lana bangles for an individual and fashionable look.
Rings in Lana Jewelry's collections include pieces that are edgy, simple yet sophisticated. The striking shape of each Lana ring makes each one a statement piece that is both trendy and timeless. Available in various precious metals, Lana Jewelry rings shine brightly and are beautifully paired with multiple other jewelry pieces while they can perfectly stand alone as well.
The story of Lana Jewelry
The sleek and sexy Lana Jewelry was founded in 2002, with gold wire Upside-Down Hoop earrings making their debut as the brand's first collection. The first impression of this particular piece of jewelry has been consistently positive in all the years since, making it the best-selling style to this day, with more than 150,000 pairs sold around the globe. Ten years after the launch of Lana Jewelry, Lana Bramlette receives the Alumni of the Year and Fashion Achievement Award from her hometown alma mater, Columbia College Chicago.
A few things set the Lana line apart: 14kt yellow gold remains the main protagonist of pieces, with white and rose gold finishes also available; a high-polish finish; and a variation on the diagonal faceted chain of the Blake collection.
Become a Lana Girl with earrings, necklaces, bracelets and rings that will light up the night (and day)!
Notable achievements in
Lana Jewelry history:
The year 2004 brought "Rain," an inaugural collection featuring diamonds.
In 2005, "Luck n' Love is introduced, including shimmering diamond-cut gold.
In 2007, Lana acquired the nickname of "The Queen of Hoops," from fashion media as she launched the gold wire Magic Hoop earrings. Hoops are a fundamental basic that appear cross-collections.
In honor of the birth of her daughter Blake in 2010, The Blake collection is launched. This is also the year that a Lana necklace appears on the cover of the Sports
Illustrated Swimsuit Edition for the first time, and is featured on a Times Square billboard in New York City.
In 2014, the first full diamond collection, dubbed Flawless, was released.
The Elite collection, with a "dipped gold" setting, makes its first appearance in 2015.
The 2016 issue of Sports Illustrated magazine featured a half-dozen models dressed in Lana Jewelry, including hand lariats from the Bar and Mystio collections, the Luck n' Love lariat, and body chains from the Nude and Blake collections. Appropriately, the spring and summer lines had beach-themed names like Expose, Illuminate and Vanity.
Lana Jewelry is sold through independent fine jewelers, like J.R. Dunn Jewelers, as well as luxury department stores and other specialty retailers.
Lana Jewelry Information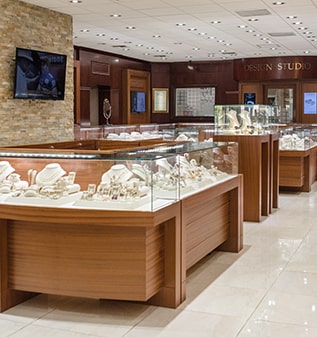 Visit us in real life.
4210 N. Federal Hwy.
Lighthouse Point, FL
33064
Visit us
Store location
Mon-Sat: —
Sunday:

Closed
4210 N. Federal Hwy.
Lighthouse Point, FL
33064
Save up to 15% on your first order.
Receive email updates on stuff you'll probably want to know about, including products, launches, and events. Unsubscribe anytime. Some exclusions apply…