Marco Bicego Jewelry
Old world tradition meets contemporary design
Let the natural radiance of Marco Bicego jewelry sweep you away! From 18 karat gold to brilliant diamonds and colorful gemstones, Marco Bicego transforms elements of beauty into works of art. His handcrafted jewelry is cultivated through the use of old-world techniques...with a fashionable spin. Strongly connected to his Italian heritage, Marco Bicego finds his inspiration from the natural surroundings of the territory of his Venetian origins.
The story of Marco Bicego
Every piece of Marco Bicego jewelry combines old-world tradition with contemporary design. The techniques employed by artisanal craftsmen have been passed down from generation to generation in this family business that was started by Marco's father in 1958. A constant source of inspiration for the designer is his Venetian origin and natural surroundings. The designation, "Made in Italy" in every 18K yellow gold piece of jewelry means something to Marco Bicego. Fluid and sensuous earrings, necklaces, bracelets and rings have lustrous texture and captivating color, thanks to the three signature hallmarks of Marco Bicego designs: hand-twisted coils, hand-engraving, and multicolored gemstones. These elements are what set Marco Bicego jewelry apart.

You can see the twist of timeless elegance in the Cairo, Goa, Marrakech and Masai collections. The lustrous texture enjoyed from the bulino, an ancient tool devised for the art of hand-carving that gives gold a fine, brushed texture, is evident in the Africa, Delicati, Jaipur Link, Lunaria, Murano and Siviglia collections. Natural, exclusively cut, hand-selected gemstones grace the jewelry of the Jaipur, Murano and Paradise collections.

Marco Bicego jewelry delivers everyday luxury and craftsmanship of the highest quality.
Born out of passion
'Marco Bicego jewelry was born out of passion for contemporary pieces rooted in tradition. The pieces express the desire to create luxurious jewelry that also boasts incredible craftsmanship. The namesake of this jewelry line is a second-generation jeweler who is following in his father's footsteps and continues the tradition of creating stunning pieces that are inspired by Venetian culture and Venetian natural surroundings. Traditional jewelry-making techniques have been passed down from one generation to the next, and the artisans that create Marco Bicego jewelry utilize only the most refined systems for handcrafting each piece of designer jewelry.

The stunning jewelry designed by Marco Bicego utilizes three primary features that are both iconic and recognizable: hand-engraving, hand-twisted coils and the use of multicolored gemstones. Each hallmark of the jewelry line is evident in various collections, and each 18kt gold piece exudes elegance, beauty and luxury.

All the collections by Marco Bicego, jewelry designer extraordinaire, are unique in their own right. The Cairo, Goa, Marrakech and Masai collections all feature hand-twisted coils, or corda di chittara, a technique perfected by Marco Bicego and his jewelry artisans. The Africa, Delicati, Jaipur Link, Lunaria, Murano and Siviglia collections are recognizable by their brushed texture, which is hand-created using an ancient tool called a bulino. The Jaipur, Murano and Paradise collections are known for their radiant, exclusive and hand-selected gemstones that are colorful, bright and uniquely stunning. Whether you're searching for bracelets, earrings, necklaces or rings, Marco Bicego has something perfect for you.

Marco Bicego bracelets are truly one of a kind. Each piece is designed with passion, attention to detail and an eye for style and class. You are sure to find a few Marco Bicego bracelets that you will absolutely adore, whether it's a dainty, gemstone-embellished bracelet, a thin, elegant bangle or a bold station bracelet.

Each pair of Marco Bicego earrings is sure to draw attention. Featuring some of the most coveted stones in the world, stunning hard-carved designs and elegantly created drop designs, Marco Bicego earrings are sure to excite anyone who wears them. Each collection of Marco Bicego features unique earrings covers a breadth of style preferences, including casual, chic, lively and elegant.

If you're looking for a statement piece for your favorite outfit or for a night on the town, Marco Bicego has a necklace for you. While all necklaces are made with 18kt gold, some are adorned with diamonds, some feature premium stones from across the globe and others let the gorgeous gold speak for itself. Pendants, single-strand and station necklaces are some of the most popular choices in the Marco Bicego line, while three-strand, double-strand and twist necklaces offer more unique and original statement pieces.

Marco Bicego rings feature the three hallmarks of the designer's jewelry, but in a smaller and more subtle way. With many rings featuring rows and layers of gold or stones, it's easy to find a gorgeous Marco Bicego ring that you adore. From stackable rings to cocktail rings with gorgeous stones, the rings that Marco Bicego creates are strikingly distinguishable and perfect for any occasion.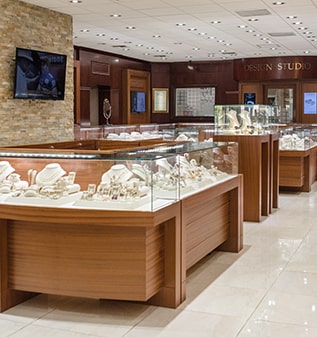 Visit us in real life.
4210 N. Federal Hwy.
Lighthouse Point, FL
33064
Visit us
Store location
Mon-Sat: —
Sunday:

Closed
4210 N. Federal Hwy.
Lighthouse Point, FL
33064
Save up to 15% on your first order.
Receive email updates on stuff you'll probably want to know about, including products, launches, and events. Unsubscribe anytime. Some exclusions apply…