Meet the team
We are J.R.DUNN Jewelers
T
he friendly and knowledgeable sales team at J.R. Dunn Jewelers love what they do, and it shows in the personalized care and attention they lavish on our clients. When you shop with us you become a member of the extended family, from your very first purchase! Our jewelry professionals are there for you, whatever your needs, whether you're buying, selling, creating a custom piece or looking to repair a piece of jewelry or Swiss watch. We stand behind our products and services; in fact, we stake our reputation on our integrity and trust. The strong and long-lasting relationships we have forged in the community and with our in-store and online customers are legendary. We know that your business depends on the quality of our business, and put an unparalleled value on the people who have made J.R. Dunn Jewelers what it is today. Please know how much your confidence and loyalty is appreciated; we are sincerely grateful. If you are a current client, thank you! If you are a potential client, we look forward to serving you, and building a bond.
Jim & Ann Marie Dunn
Owners of J.R.DUNN Jewelers
Jim Dunn, a proprietor of J.R.DUNN, enjoys talking with clients, making them friends, keeping in touch and welcoming new generations to the showroom. He celebrates such friendships and loyalties today, as in the past 46-plus years! Ann Marie Pelliccia was working as an executive secretary at IBM when she met and fell in love with Jim Dunn. The two married and embarked on an entrepreneurial journey, creating J.R. Dunn Jewelers in 1969.
Sean Dunn
Co-Owner & Vice President
J.R.DUNN Co-Owner Sean Dunn is as at-home on the ocean as he is in the family business. When he's not working he can be found surfing, fishing, spearfishing or boating with his wife, children and parents.
Steve Pryor
Ecommerce Sales Professional
Steve has earned his Accredited Jewelry Professional designation from the Gemological Institute of America (GIA). During his this time he has become known for his sales of the Mikimoto and Marco Bicego brands. Some colleagues refer to him as "Mikimoto Man," a title he is proud to bear. While he enjoys helping people with any brand, especially Mikimoto, his current personal favorite designer is William Henry.
Cheri Pracker
Ecommerce Sales Professional
Cheri Pracker is a career salesperson, with experience in the retail, fitness and jewelry industries. She has been with J.R. Dunn for three years, where she is known for her expertise with the John Hardy and Fope lines of jewelry.
Andrew Lefton
Showroom Sales Manager
He puts customer service above all else on-the-job, and clearly loves what he does which, he says, is a must for a career in the business. While he specializes in Swiss watches (Rolex and Breitling, in particular) and diamonds, Andrew's tastes run to the spectacular, with Roberto Coin and John Hardy among his favorite jewelry designers. As for his own jewelry wardrobe, he always wears his late father's diamond ring, and a bracelet that his son gave him.
Trish Anghel
Showroom Sales Manager
The self-motivated career jewelry professional studied diamonds and colored stones at the Gemological Institute of America (GIA). Trish is passionate about her family, dog and job, even relishing her weekend hours at the showroom!
Sam Patel
Showroom Sales Manager
J.R. Dunn store manager Sam Patel has been with the family-owned-and-operated business for more six-and-a-half of his 36 years in the jewelry industry! Originally from Nairobi, Kenya, and educated there an in Canada, Sam is a Graduate Gemologist certified both by the Gemological Institute of America (GIA) and the American Gem Society (AGS).
Paige Otte
Showroom Sales Professional
Career jewelry professional Paige Otte has spent nearly half her working life with J.R. Dunn Jewelers. The Louisville, KY native is passionate about all types of jewelry, counting Chopard and Phillips House among her top favorites. Her affinity for jewelry can be traced back to the first piece she received: a jade turtle pendant her father brought her from China.
Toni Tringali
Showroom Sales Professional
Toni has been part of the J.R.DUNN team for over 20 years. She studied diamonds at the Gemological Institute of America (GIA), pearls with Mikimoto, and visited a South Sea pearl farm while on vacation in Tahiti! She is proud to be a member of the friendly and knowledgeable J.R. Dunn staff, who care about and are dedicated to assisting every person who comes through the showroom doors. When not on the sales floor, Toni enjoys spending time with her family, especially her grandchildren, and traveling.
James Magnarelli
Showroom Sales Professional
A native New Englander, James Magnarelli has been in the jewelry industry for 25 years! He loves working in a family atmosphere where he can get to know clients and help them celebrate life's milestones. When he's not working, he loves spending time with his friends and family, going to the beach, and trying new restaurants. James is particularly fascinated by diamonds. He loves the fact that the forces of nature produced something so beautiful and unique!
Christina Grace
Showroom Sales Professional
For Florida-native Christina Grace, no industry is more exciting than jewelry! She loves working with diamonds and gems on a daily basis, and has been in the business since 2011. Her favorite items to sell are engagement rings and wedding bands, as it gives her the opportunity to share in a couple's special moment and help them pick out the perfect jewelry for that momentous occasion.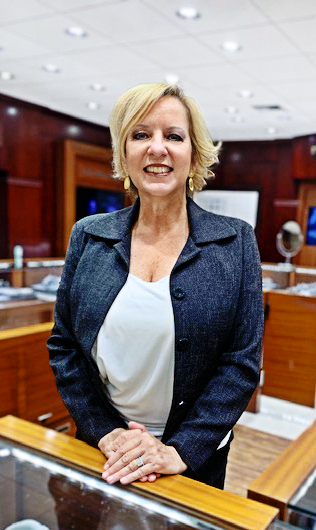 Denise Cauthen
Showroom Sales Professional
Starting in the jewelry industry in 1985 with a wholesale and manufacturing company, Denise's love for jewelry began. Throughout the years her passion for jewelry and working with customers grew which allowed her the opportunity to attend the Gemological Institute of America New York Campus in 2004. Having gained the skillful knowledge of jewelry and watches she is able to provide customers with superior customer service and the knowledge to provide them with wisdom in their purchases.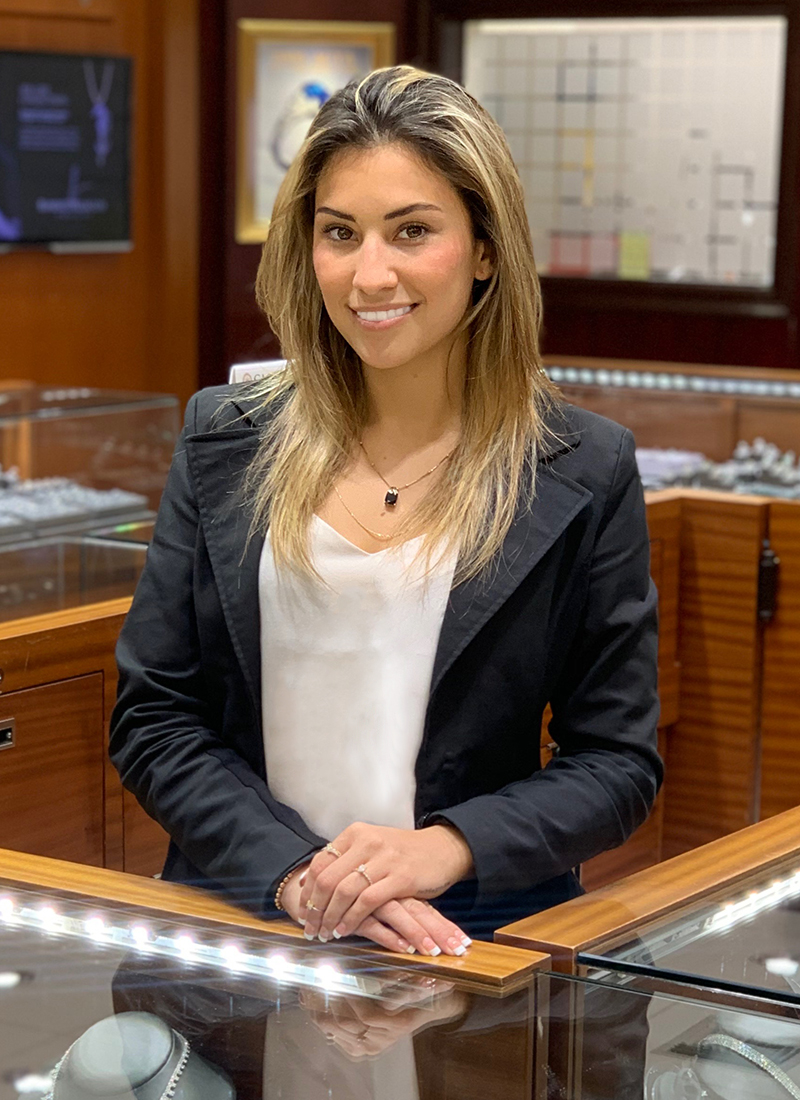 Ana Davila
Showroom Sales Professional
Ana's advice is; "Do what you love, Love what you do!" and applies this to her everyday life at work and home. She joins the J.R. Dunn family with a wealth of experience in the jewelry industry and loves helping her clients find the perfect piece of jewelry for that special occasion. She is extremely happy and proud to be a part of J.R Dunn Jewelers, having the opportunity to keep learning from the best in the industry. Ana studied diamonds, colored gemstones, and jewelry essentials at the Gemological Institute of America (GIA) earning her an Applied Jewelry Professional diploma. When she's not working, she's usually with her family, at the beach, or doing something outdoors. Regardless of what it is she's doing, she's always celebrating life!