Is white gold just a trend?
For many years mens wedding rings were viewed solely as a yellow gold ring for men. but when white gold engagement rings swept the jewelry industry, naturally men's wedding rings soon followed. In the United States, white gold is the most common tone gracing a married man's finger.

One of the most repeated things we hear is that he wants something basic, or simple. Often times though, we find this isn't the case. White gold mens wedding bands are crafted in styles from the most basic high-polished domed ring to intricately hand carved styles. Almost every gents wedding band that J.R. Dunn Jewelers carries is available in white gold.

Something else to consider may also be choosing a white gold ring with a mixture of other metal tones such as rose gold or yellow gold. If you know he wants a little bit of sparkle or you want him to match your diamond jewelry, you can always select a wedding band set with diamonds. If rugged is more the style of your man, then a heavily scratched style or something with a satin finish may be just right.

For any mens ring you choose, whether it is white gold or not, we do suggest that you select a ring that has a comfort fit interior. Comfort fit refers to a ring with a beveled edge and slightly domed on the inside of the ring so that it does not dig into the skin on your fingers.
What makes white gold?
Gold is not naturally a white metal. Therefore it must be alloyed or mixed with other metals to get to this color. When the ring is cast it's not that pure white you might find sparkling in the case at a store. It is left with an off-white color.

To attain that crisp white color, the ring is then polished and dipped into a liquid metal that is from the platinum family named Rhodium. An electric current runs through the liquid and when the ring is dipped into the liquid, the metals are bonded together. This process is called rhodium plating.
Can I be allergic to White Gold?
If your finger has swollen, become scaly, red or itchy, you may be allergic to nickel. The industry standard alloy for white gold is nickel, which many people have allergies to. We suggest not wearing this ring anymore and either upgrading to a platinum ring or changing to an alternative metal. Most white gold rings are available in the identical style in platinum.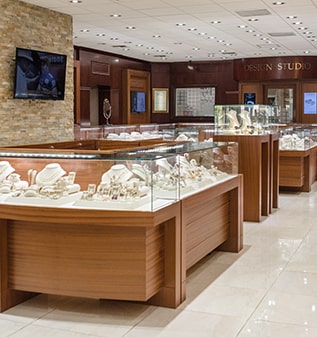 Visit us in real life.
4210 N. Federal Hwy.
Lighthouse Point, FL
33064
Visit us
Store location
Mon-Sat: —
Sunday:

Closed
4210 N. Federal Hwy.
Lighthouse Point, FL
33064