What shape should I choose?
What shape diamonds are set in your wedding band is highly personable. There are wedding bands featuring rounds of course, but you can go wild with the many different fancy shape bands we offer. The way a diamond is cut will affect how much light a diamond will reflect leading to sparkle.
One thing you should know is that diamonds that are brilliant cut will offer maximum sparkle. Diamonds that are considered brilliant cut fall into the shapes of round diamonds, cushion cut diamonds, princess cut diamonds and Radiant diamonds. If you're looking for an elegant sparkle with a touch of a more vintage look and one that doesn't draw too much attention, a step cut diamond might be for you.
Eternity diamond wedding rings set with ovals, radiant cut diamonds and Emerald cuts diamonds are some of our favorites. If you choose one of these, we would love for you to tag us instagram and show off your style!
I've heard that diamonds can come out of rings. Should I worry?
Your wedding band is the outward expression of your marriage, so you shouldn't have to worry about it! We suggest bringing your ring to our store to have a complimentary inspection and cleaning to not only your wedding band, but also your engagement ring setting at least once every six months. You're welcome to bring it in whenever you're in the area, it's one of the wonderful in-store services we offer, and we don't charge you for some unreasonable service plan.

Of course, anything can happen. So if you impact your ring hard enough, drop it or some other circumstance causes your diamond jewelry to lose a stone, don't worry! That missing diamond can be replaced. For larger diamonds and higher purchases we recommend having an insurance plan on your jewelry for extra peace of mind.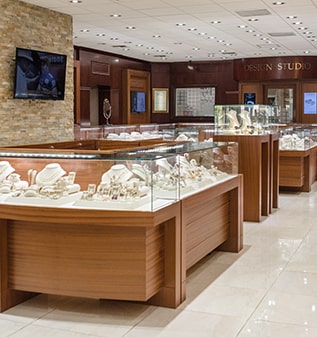 Visit us in real life.
4210 N. Federal Hwy.
Lighthouse Point, FL
33064
Visit us
Store location
Mon-Sat: —
Sunday:

Closed
4210 N. Federal Hwy.
Lighthouse Point, FL
33064
Save up to 15% on your first order.
Receive email updates on stuff you'll probably want to know about, including products, launches, and events. Unsubscribe anytime. Some exclusions apply…