Decisions, decisions...
If you're looking for something lacey and vintage, then our selection of designer white gold ladies wedding rings from Tacori and Verragio are going to entice you. Couture, modern and ultra fashionista more your thing? The rings from our award winning designer Robert Pelliccia and Karl Lagerfeld is a good place to start. Karl Lagerfeld was a designer for Coco Chanel and known for his edgy studded accessories and that style carries over to wedding bands.

Need some more help? Speak with one of our bridal specialists by chatting or calling our store for a personalized touch.
Some of my friends warned me that white gold turns yellow. Is that true?
All white gold jewelry is rhodium plated, whether it's stamped 18k gold or 14k gold. This is perhaps the biggest difference in white and yellow gold, since yellow gold is naturally yellow it does not need to be plated. Yellow gold is mixed with white metals to produce an off-white color and then goes through the plating process.
Can I be allergic to white gold?
Actually, to be more specific, you're most likely allergic to the alloy that the yellow gold content is mixed with. Most people who have an allergic reaction have it months after having the ring. This is because the hypo-allergenic metal named Rhodium has begun to wear off because of wear. Now your finger is exposed to the mixture of gold and most commonly nickel and that's what you may be allergic to. If this happens to you, we suggest purchasing a platinum wedding band, which is hypoallergenic.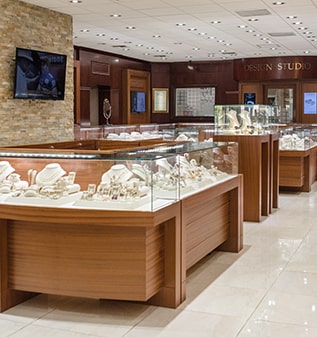 Visit us in real life.
4210 N. Federal Hwy.
Lighthouse Point, FL
33064
Visit us
Store location
Mon-Sat: —
Sunday:

Closed
4210 N. Federal Hwy.
Lighthouse Point, FL
33064
Save up to 15% on your first order.
Receive email updates on stuff you'll probably want to know about, including products, launches, and events. Unsubscribe anytime. Some exclusions apply…