What is the Right Necklace Length for Me?
By

Nina Glaser & Lauren Paletz
·
April 21, 2015
Take the shape of your face and your wardrobe into consideration when shopping for necklaces, too.   Here are a few "tips of the trade," to help you make an educated decision about shopping for that perfect piece:
Chokers measure 14" to 16" and hug the neck, highlighting it by drawing attention to it. They will balance a narrow chin, creating the illusion of a fuller face.  Best suited to those with slimmer necks, chokers can soften the sharp angles of those with heart-shaped, rectangular and oblong faces. People with round-shaped faces should avoid this length, opting instead for either a graduated necklace that elongates the face, by putting attention on its center, or a longer necklace with a pendant or charm that'll create a slimming "V" as it drapes away from your face.
The choker is a classic and versatile choice, complementing a wide open neck, v-neck, boat neck, off-the-shoulder and strapless styles.
The Princess length is 17" to 19" long, coming down to or just above the collarbone. This popular length is universally flattering, the optimal measurement to show off a pendant. It's also the model length for a pearl necklace. The Princess length goes with virtually almost any neckline, from strapless to crew neck, high necks and low, plunging necklines. Bear in mind that it should not compete with the neckline.
You'll find the 20" to 24" Matinee length falling just above the breastbone common for chains, strand necklaces and lockets. It's suited for casual and business wear, like a suit or dress, attractively worn with both button-down blouses and turtlenecks. This length draws accentuates cleavage.
The dramatic Opera length, at 30" to 36", is long enough to reach the sternum or breastbone. It's a length that can go from day, worn with a high neck or crew neck during the day, to formal eveningwear at night. The opera length emphasizes a tall frame and draws the eye in a vertical line.  It elongates a round face and puts the focus on your chest. Necklaces can be double-wrapped to create multiple looks.
For elegant business and evening wear, the Rope measures more than 36". It's typically crafted as a long strand without a clasp (if it has a clasp it would be termed a "lariat"), and may be wrapped to form a shorter layered-effect look.  This formal length looks fabulous on taller women, and puts the attention to the female form, drawing the eye to women's curves .
Make sure your necklaces are visible! Mix precious metals and types of necklaces, with chains, pearl and gemstone pieces working in seamless harmony.
These guidelines, while meant to be helpful, are not the be-all-end-all.  It's been said, "Rules were made to be broken," so our number one piece of advice? Try some necklaces on and see what works best for you!  Your height and weight, face shape and body type will all play a part in your comfort level. And comfort is key!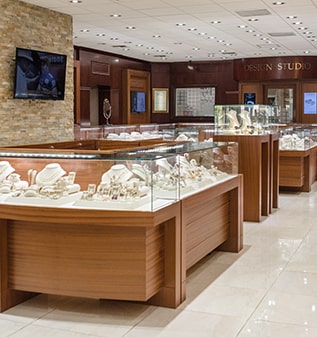 Visit us in real life.
4210 N. Federal Hwy.
Lighthouse Point, FL
33064
Visit us
Store location
Mon-Sat: —
Sunday:

Closed
4210 N. Federal Hwy.
Lighthouse Point, FL
33064
Save up to 15% on your first order.
Receive email updates on stuff you'll probably want to know about, including products, launches, and events. Unsubscribe anytime. Some exclusions apply…