Engagement Ring Trends - Hottest Styles for 2017 / 2018
By

Jenna Fish
·
June 9, 2017
Every year, jewelers from around the world gather in Las Vegas for the JCK jewelry show, showcasing the hottest and most sought-after trends among the industry. The hot trend this year dominating the show are east-west engagement rings, going against bridal traditions as we know it.

East - West engagement rings showcase the diamond being horizontal in orientation, rather than vertical. Oval, emerald, marquise - you name it! The possibilities are endless allowing you to truly customize the look, reflecting your individuality.
What we love about this hot engagement ring trend:
Elongates the finger
Creates the illusion of a larger stone
It's unique - not everyone is wearing one
Ability to stack with other rings
Directionally Chic
Handcrafted in California, Tacori just released a stunning set of directionally chic styles as an addition to their 'Simply Tacori' collection that we are going crazy over. The modern collection features oval, emerald, marquise, and pear shaped diamonds of horizontal orientation on various bands from rose gold to platinum. The addition of these directionally chic styles add contemporary versatility to the beautiful Tacori girl look.
The Pirouette
Love this look but afraid you won't a few years down the road? Designer A. Jaffe showcased their knack for innovation and craftsmanship, bringing to life the pirouette ring. With the ability to twist the diamond from east - west back to traditional vertical, the flexibility is in your hands allowing your creative side to flourish.
Bottom line: We are simply loving this fresh, bold trend and know we will be seeing a lot more of it!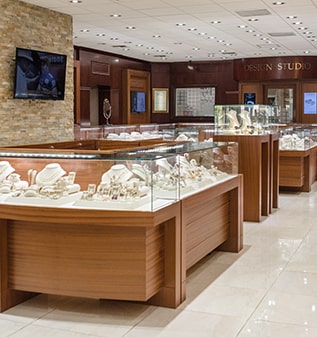 Visit us in real life.
4210 N. Federal Hwy.
Lighthouse Point, FL
33064
Visit us
Store location
Mon-Sat: —
Sunday:

Closed
4210 N. Federal Hwy.
Lighthouse Point, FL
33064