EF Collection Jewelry
EF Collection's Emily Faith showcases her personal aesthetic through dainty necklaces, simple bracelets, earrings and stackable rings. Delicately crafted in 14K yellow gold, white gold, and rose gold, Faith draws inspiration from her time studying abroad. Decorate your fingers with a stack of EF Collection gold rings, for a look that will bestow you with a youthful yet sophisticated elegance. Not only have Emily Faith's jewelry designs been spotted countless times on the red carpet by society's "A-Listers," but her designs have also been noted for their versatility and capability to fit every type of confident woman. Construct a look that is distinctively your own with a whimsical diamond bracelet or a layerable blue sapphire necklace. Stack, mix and layer to discover your unique aesthetic of understated glamour or style each piece solo for an everyday look that keeps you feeling sexy and chic. Falling in love with the idea of simple artistic creations telling monumental stories, she then utilized these precious golds and revolutionized them into contemporary forms.
The story of EF Jewelry
Through her adoration for fashion and BA in Art History, Emily Faith longed to utilize her two most paramount passions to construct a monumental business that would affect women everywhere. Based in Los Angeles, Emily Faith Collection was born in 2010 to be later referred to as EF Collection. Mirroring her own personal aesthetic, Emily created delicate pieces that made subtle, yet glamorous statements. When editors and celebrities began to trail these designs, she knew she was onto something and proceeded down a path that lead her to notable success.

During the emergence of EF Collection jewelry, Emily detected a lack of fashion-forward jewelry at approachable costs. Therefore, in effort to reach a broader audience, the brand began to generate highly-coveted pieces at appealing price-points. Without neglecting their standard for pristine quality, EF collection discovered that quintessential balance of 14k diamond accessories at attainable values. Soon, she had curated a bouquet of masterpieces that spoke decibels to an array of clients such as the youthful teen, the young-professional, and the elegant mother-on-the-move.

EF jewelry is fashioned for the everyday woman and reflects a sexy, feminine ambiance through classic forms taking an unexpected twist. Thus, maintaining an element of modern elegance, these precious treasures also radiate a sense of timelessness. Emily Faith stands by the familiar motto, "less is more," and bestows women the capability to showcase their personality or mood by wearing these pieces alone, or by stacking and layering them to assemble an original look that is uniquely their own. Emily explains that her "ultimate goal is to make women feel beautiful on the outside while allowing their inner confidence to truly shine."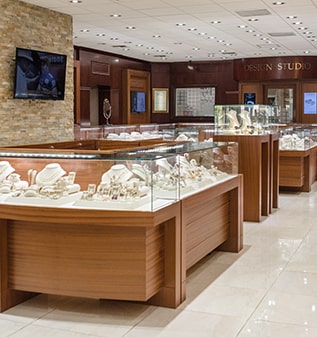 Visit us in real life.
4210 N. Federal Hwy.
Lighthouse Point, FL
33064
Visit us
Store location
Mon-Sat: —
Sunday:

Closed
4210 N. Federal Hwy.
Lighthouse Point, FL
33064
Save up to 15% on your first order.
Receive email updates on stuff you'll probably want to know about, including products, launches, and events. Unsubscribe anytime. Some exclusions apply…