Solitaire Diamond Engagement Rings
There is nothing more classic than a diamond solitaire engagement ring! These simple stunners will put the spotlight on your center diamond and make a sparkling statement. A solitaire ring has been the go-to for brides-to-be for centuries.
At J.R.Dunn Jewelers we offer many different styles of solitaire settings to pair your diamond with, including world renowned designers such as Tacori or Robert Pelliccia. Although the base of the ring is usually plain on a solitaire, you can choose a ring that matches her style with your choice of braided, beaded or knife-edge alternatives. Curved mountings, scrollwork and hand-engraved detailing can add visual interest. Whatever your preferred precious metal – white gold, yellow gold, rose gold or platinum – there is a solitaire diamond engagement ring for you.
The solitaire diamond ring shows off every diamond shape, from Asscher to emerald cut, heart, marquise, oval, pear shape, princess cut, radiant and the timeless round. There are many options on how your diamond is set. Your center gemstone can be prong-set with four prongs or with six prongs or bezel set.
Something to think about: Depending on the size of the center diamond you choose, a dainty engagement ring might emphasize a smaller carat weight diamond. A larger center diamond with a wider solitaire band might just look amazing. Of course, it depends on the style you're going for!
A single stone has no detractors. This makes solitaire diamond engagement rings clean and elegant, timeless and ever-popular. A classic look doesn't mean boring, instead it will keep you in style, always. If you'd like an alternative style on the ring you choose, just contact one of our engagement specialists through the chat to discuss other options.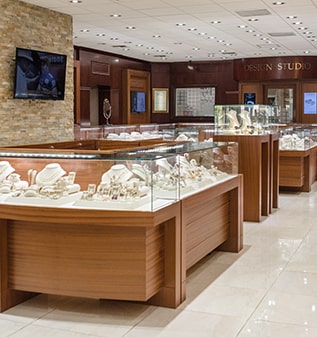 Visit us in real life.
4210 N. Federal Hwy.
Lighthouse Point, FL
33064
Visit us
Store location
Mon-Sat: —
Sunday:

Closed
4210 N. Federal Hwy.
Lighthouse Point, FL
33064
Save up to 15% on your first order.
Receive email updates on stuff you'll probably want to know about, including products, launches, and events. Unsubscribe anytime. Some exclusions apply…