Upgrade Your Engagement Ring - Bring On The Bling
An engagement ring has immeasurable symbolic and sentimental value, but there may come a time when you want to upgrade it. Maybe you have different tastes or an improved financial standing. Your ring may have even suffered some damage. Maybe it wasn't your style in the first place? These factors come into play when you consider making a change to your engagement ring.
Your first engagement ring was a symbol of your impending marriage. Reinventing your ring reaffirms what brought you -- and keeps you -- together! It's a representation of the love – and life – that you've shared together. (It will help to keep in mind that your commitment was/is to each other, not your jewelry! )
There are a number of ways to transform your engagement ring, including:

Changing the cut of your center stone. Shapely options include:

Asscher – A square-shaped stone similar to the emerald
Cushion – A square shape with rounded corners
Emerald – A rectangular shape with a large table that has light and dark planes
Heart – An unmistakable symbol of love
Marquise – A football-shaped diamond that's long and narrow, it maximizes perceived size
Pear – Combines a round and a marquise, with a tapered point on one end
Princess – The most popular of the fancy shapes
Oval – The elongated shape delivers the illusion of greater size
Radiant – A rectangular shape with a brilliant cut facet pattern
Round – The most popular cut, generally providing the most reflection of might and maximum potential brightness

Modifying or replacing your current setting. There are so many styles to choose from! Among the possibilities:

Channel set – A smooth setting where stones are set flush, held in place side-by-side without prongs in-between the stones
Halo –Surround your center stone with smaller diamonds
Pave – Cover your band with tiny diamonds held in place by small prongs or beads
Split shank – The band separates into two strands
Twist – An interlacing band

Changing the finish on your current ring
Add hand engraving
Matte or brushed textures make a ring look completely different!
Incorporating your current ring into a new ring by fusing the two together once you find a match that fit well
Adding diamonds or a colored stone to your current setting





Changing the prongs of your current ring:

Round stones in a 4-prong setting look square
Brilliant set with six prongs look more round and bigger

Get a new band in a more durable metal (going from gold to platinum, for example), or change the color of precious metal (from white to rose or yellow, yellow to white)
Purchasing a completely new ring
Incorporating the birthstone of your spouse and/or children makes for a poignant "plus"
A three-stone ring signifies your past, present and future
Upgrading your current center stone, in size and/or clarity
Make another piece of jewelry using the stone
Keep the stone to pass on to future generations
Trade-in the stone to offset the cost of the new purchase. (Upgrade options are often built into purchase agreements. Ask your jeweler about the policies.)
Side stones highlight your center stone; make sure the additions are uniform in color and match your center stone. A wide variety of shapes include:

Baguettes
Bullets
Calf's heads
Chevrons
Crescents
Half-moons
Kites
Shields
Trapezoids
Trillions
It's important that you go over all possible scenarios with a trustworthy and trusted jeweler, and compare the costs of each. There are different options, and each comes with its own price tag!
Shopping Suggestions
The same tips apply for all engagement ring shopping excursions:

Take your time
Get the highest quality you can afford
Remember the 4Cs (and that cut and carat weight are the two Cs that make the most visual impact):

Cut – The way a diamond is cut determines its reflective qualities. The way light enters the stone affects its brilliance
Color – Diamonds are found in a wide array of colors, from colorless to light yellow or brown, along with fancy stones of bright yellow, pink, champagne, blue and green. Those with little or no color (with the exclusion of fancies) are more valuable.
Clarity – Each and every diamond has its own natural characteristics, also known as inclusions (external and internal). These tiny imperfections' quantity, size, color and position are measured using 10-power magnification.
Carat Weight – The standard measure of a diamond's weight

Buy a certified diamond – A diamond certificate is a grading report that documents a diamond's characteristics, including those outlined above in the 4Cs.
Buy a conflict-free diamond – It's important that your diamond be obtained legitimately and in compliance with the Kimberly Process Certification Scheme (KPCS).
Check out online deals – Visit jrdunn.com for diamond education and to shop by bridal designer or engagement ring style
Insure the ring – There are companies that specialize in jewelry insurance; and you may also be able to purchase a "rider" for your renters' or homeowners' policy. The former may offer more coverage. Be sure to read the fine print.
Get an appraisal – An appraisal does a number of things, including verifies the facts about your diamond; determines the proper coverage(s) needed regarding insurance; and records detailed information in the event that your jewelry is ever lost or stolen.




And, there's one other "C" that you should keep in mind: Care! While a diamond is one of the hardest substances on earth, you should always safeguard your gem against loss and/or damage. Among the do's and don'ts:

Refrain from wearing diamond jewelry when cleaning house, gardening and playing sports.
Put your ring on after you've applied lotion, make-up, hairspray and perfume.
Store your ring separately from other items in your jewelry box.
Have your ring inspected and professionally cleaned twice a year. They'll check the setting and prongs. In-between visits to the jeweler, you should clean your diamond at-home (each week, if you wear it every day).




If you need an "excuse" for an adjustment, it's an ideal way to mark a significant anniversary, holiday, birthday, promotion. (Of course, there's always "just because!")

Best of all, bringing on the bling is something that you can now do together, if you missed out on giving input the first-time around!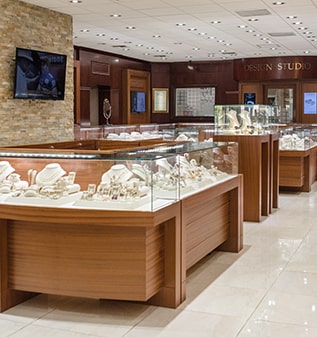 Visit us in real life.
4210 N. Federal Hwy.
Lighthouse Point, FL
33064
Visit us
Store location
Mon-Sat: —
Sunday:

Closed
4210 N. Federal Hwy.
Lighthouse Point, FL
33064
Save up to 15% on your first order.
Receive email updates on stuff you'll probably want to know about, including products, launches, and events. Unsubscribe anytime. Some exclusions apply…