Jewelry Care Advice
Jewelry is many things: decorative; a status symbol; evidence of an ethnic, religious or social affiliation; an artistic display; and form of protection. It is also an investment that needs to be taken care of to ensure longevity. A little attention will go a long way!
Here are some helpful hints to keep your pieces looking like the prized possessions they are:
Make your earrings, necklaces, brooches, bracelets and rings the last thing you put on when dressing and the first thing you take off when undressing.
Remove jewelry while performing tasks (cleaning house, gardening, playing sports).
Put jewelry on after applying makeup.
Don't wear jewelry in the bath or shower, swimming pools or spa.
Don't wear earrings at the salon when having your hair done; be sure to remove pearls before coloring your hair!
Don't clean damaged pieces; set them aside and get them repaired as soon as you're able.
Have your pieces inspected regularly; every six to 12 months. A jewelry professional can assess the mountings, prongs and the overall condition of your pieces, and perform any necessary repairs.
Store pieces individually, in a secure place, to avoid scratches and tangles.
Inventory your jewelry, complete with photographs, descriptions and price paid. Keep lab reports in a separate location.
Invest in a jewelry travel case so you can take your favorite pieces "on the go" with you safely.
Check that settings, clasps and prongs are secure before you clean.
Keeping It Clean!
Diamonds
(You may want to close the drain and/or put your diamond jewelry pieces in a strainer before beginning the cleaning process!)
Soak in a warm solution of mild detergent and water. Swish the ring in the solution, removing dirt with a soft brush, if necessary.
Rinse thoroughly in warm water.
Dry with a lint-free cloth.
Doublets
These pieces cannot withstand heat, harsh detergents, ammonia-based cleansers, oils or cleaners with alcohol. They should not be worn in the shower or performing activities that require immersing or submerging hands in water, or working with chemicals. They also cannot be steam cleaned.
Gemstone Jewelry
Generally speaking, the only "tools" you'll need to clean most gemstone jewelry are mild soap, tepid water, a soft brush and soft cloth.
Chalcedony, onyx, turquoise and coral should not be put into warm water.
Test lapis lazuli before cleansing with warm soapy water, as the dye used in some pieces can come off.
Professional ultrasonic cleaning is generally safe for the following gemstones, provided they are free of fissures and fracture-fillings:

Alexandrite
Amethyst
Aquamarine
Citrine
Garnet
Ruby
Sapphire
The machine is not for use on emerald, moonstone, pearl, onyx, opal, peridot, quartz, tanzanite, topaz, tourmaline or turquoise.
Gold and Platinum
Use mild soap and water with a soft brush. Dry and polish with a soft chamois.
Store in a lined case or jewelry box with dividers.
To restore a shine to gold jewelry, put the piece in a solution of mild soap and warm water with a few drops of ammonia. Platinum should be buffed every six months.
Pearls
Warm, soapy water is recommended for occasional thorough cleaning. Be sure your pearls are completely dry before wearing. After wear, wipe with a soft clean cloth.
Sterling Silver
Wash in mild soap and water.
Allow the water to bead on the jewelry.
Pat dry with a soft cloth.
If you opt to use a silver cleaner, make sure it's phosphate-free and low-abrasive.
Do not use paper towel or tissue on your sterling silver; they can scratch. Also, be sure to avoid contact with chlorine or other chemicals.
Preventative Maintenance
Have white gold re-plated, and platinum re-polished and prongs re-tipped as necessary.
Frequently worn pearls should be restrung as necessary, with a knot between each to prevent loss if the string breaks.
Stones that won't tolerate hard blows or hard wear include amber, garnet, morganite, opal and topaz.
Avoid heat with amethyst, aquamarine, opal, pearl, and turquoise.
Handle diamonds sparingly and clean regularly.
One last piece of indispensable advice: Buy your jewelry from a trusted, authorized dealer - like J.R. Dunn!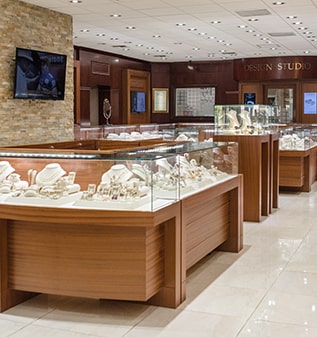 Visit us in real life.
4210 N. Federal Hwy.
Lighthouse Point, FL
33064
Visit us
Store location
Mon-Sat: —
Sunday:

Closed
4210 N. Federal Hwy.
Lighthouse Point, FL
33064
Save up to 15% on your first order.
Receive email updates on stuff you'll probably want to know about, including products, launches, and events. Unsubscribe anytime. Some exclusions apply…