The Non-Traditional Engagement Ring Trend
Symbols of the intent to marry throughout history have included braided grass, gold wire, thimbles and, finally, rings.

History shows that diamonds weren't always the go-to gem for engagement rings. While first diamond engagement ring was given to Mary of Burgundy by the Archduke Maximilian of Austria in 1477, jewelry with other precious gemstones followed, including:

The ornate designs of the Victorian Era mixed diamonds with other gems, precious metals and enamel. Diamonds were paired with other jewels during the Edwardian period, commonly in filigree settings. Moonstone, amethyst, citrine, opal and pearl in the Art Nouveau period.

Diamond engagement rings became popular in the 1940s, and have remained a popular choice. Most recently, non-diamond engagement rings are increasingly sought-after.

There are many reasons a couple might opt for a non-traditional engagement ring:
> It offers the opportunity to show individuality and make a fashion statement with a birthstone.
> A precious stone may be more affordable
> There's a family heirloom

The point is to have a meaningful gemstone; something with a back-story. Your selection can be as unique as you are! It's all about the personalization. Go ahead; shop outside the box!

You'll want to select a stone that is beautiful and durable, as an engagement ring is an everyday piece of jewelry.

Diamonds are the hardest gem, and "fancy" stones come in an assortment of colors: black, yellow, pink, brown, blue, green, red and gray. Singer Carrie Underwood wears a yellow diamond engagement ring.

Sapphires rate a 9 on the Mohs Scale of Hardness and a popular engagement ring choice; only a diamond can scratch their surface. They, too, come in various colors, including deep blue to periwinkle, yellow, pink, purple, green, teal and peach. Noted women who have sapphire engagement rings include the Duchess of Cambridge (her ring originally belonged to Lady Diana Spencer), and Penelope Cruz.

Emeralds are a soft stone; a bezel setting will be protective. Actresses Halle Berry and Zoe Saldana wear emerald engagement rings. Olivia Wilde's engagement ring has a white diamond with emerald halo that matches her eyes.

Rubies are another possibility. Jessica Simpson's engagement ring features this gemstone synonymous with love and passion.

An alternative setting, like something geometric, as was popular during the Art Deco period. Actress Scarlett Johansson has an antique ring from this era.

Bottom line: Dare to be different!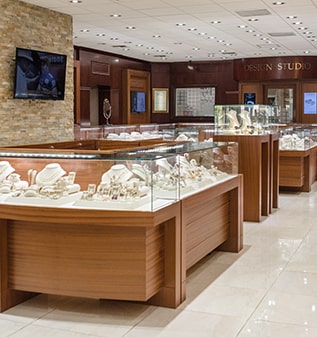 Visit us in real life.
4210 N. Federal Hwy.
Lighthouse Point, FL
33064
Visit us
Store location
Mon-Sat: —
Sunday:

Closed
4210 N. Federal Hwy.
Lighthouse Point, FL
33064
Save up to 15% on your first order.
Receive email updates on stuff you'll probably want to know about, including products, launches, and events. Unsubscribe anytime. Some exclusions apply…