A Forever Kind of Love Displayed at Vow Renewal
By

Nina Glaser
·
March 1, 2016
A sprained ankle led to love and a 67-year-long marriage for Selma and Vito Tripi. Over the years they raised five sons, and now have three grandchildren and four great-grandchildren. The only thing missing from their relationship was a traditional wedding …until this past Monday, that is! The teenage sweethearts who eloped in 1948 had a vow renewal ceremony at The Palm Garden of Aventura. All wedding day accouterments were present and accounted for, from the rabbi and pastor to music, flowers, a trip down the aisle, wedding bands engraved with the words, "Love You Forever," donated by J.R. Dunn, kisses, and a reception with wedding cake, sparkling cider and Hershey's kisses.
Jim Dunn, co-owner of J.R. Dunn Jewelers, and Andrew Lefton, one of the showroom managers, were among the people lucky enough to witness the vow renewal, themed "Love is in the Air."
"It's obvious to me that these people are still in love as the day they met," said Dunn. "My mother was a visiting nurse, so I was exposed to older people at a young age and learned that love is the thing that lives on, after – and above -- everything else."
"We were thrilled and honored to be a part of the momentous occasion," said Lefton. "Hearing about their love story, and seeing it unfold before our eyes, was incredibly emotional for just about everyone in the room."
The Tripis are a fine example of opposites attracting. They are of different religions, political views and hobbies, none of which matters!
The vow renewal was coordinated by Zita Willensky, the life enrichment director of Palm Garden, where Selma lives and Vito is a daily visitor.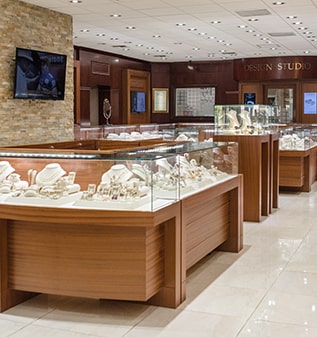 Visit us in real life.
4210 N. Federal Hwy.
Lighthouse Point, FL
33064
Visit us
Store location
Mon-Sat: —
Sunday:

Closed
4210 N. Federal Hwy.
Lighthouse Point, FL
33064