Love is Love: Engagement Rings Receive Gender Equality
By

Nina Glaser
·
June 22, 2016
Love is love, no matter what your sexual preference is. People are proposing to people, with partnerships recognized by engagement rings. The presentation of a man's engagement ring, or to use a fairly newly coin phrase, mangagement ring, is becoming increasingly popular.
A mens engagement rings openly declares your status as one-half of a committed couple and intent to marry. It is a symbol, a sentiment and a very special piece of jewelry. Assorted styles, from classic to modern, streamlined, sporty and ornate, are available.
This masculine accessory may have one thing in common with its feminine counterpart: a bit of bling from white diamonds. Other gemstones that make a statement include black sapphires, blue sapphires and colored diamonds. Band rings with rope edges, texture, pattern and mixed metals provide an easy way to make your ring a personal thing.
Also of personal taste is how you wear and use your man's engagement ring. Wear it on your left hand and switch it to the right if you receive a wedding band. Perhaps you will want to stack the two together? Or have the one ring to wear as you transition from one life chapter to the next.
Traditional bridal jewelry designers like Crown Ring, Forevermark, Tacori and Simon G. are among the usual suspects for a mangagement ring. Their creations include white, yellow and rose karat gold, as well as platinum and black cobalt alternative metal options. Men's jewelry designers John Hardy, Scott Kay and Stephen Webster are just three out-of-the-box thoughts for your consideration, with sterling silver and bronze band rings to capture your attention and your heart.
It will not be difficult to find a ring that is as unique as your relationship! Oh, and congratulations on your engagement. Love is love here at J. R. Dunn Jewelers. If you are looking to get engaged to the man of your dreams, check out our selection of Men's Engagement Rings.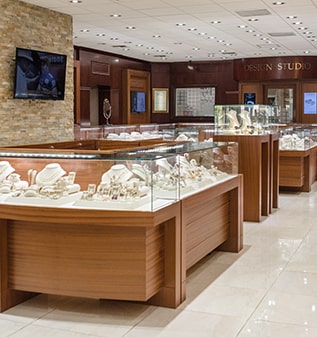 Visit us in real life.
4210 N. Federal Hwy.
Lighthouse Point, FL
33064
Visit us
Store location
Mon-Sat: —
Sunday:

Closed
4210 N. Federal Hwy.
Lighthouse Point, FL
33064
Save up to 15% on your first order.
Receive email updates on stuff you'll probably want to know about, including products, launches, and events. Unsubscribe anytime. Some exclusions apply…