How to Master the Art of Stackable Rings
By

Jenna Fish
·
June 1, 2018
Layering accessories is becoming trendier with each passing year. Stackable rings are one such trend that we don't see going away anytime soon. J.R. Dunn carries a variety of stackable rings, from simple to ornate, and we encourage experimentation with mixing and matching them with other stackable rings in your jewelry collection.
Different Types of Stackable Rings
Thin & Delicate – The most common type of stackable rings are thin, delicate, and very simple. This diamond and turquoise ring relays a quiet beauty and is perfectly paired with several other thin and delicate rings or a larger, more ornate ring. Thin and delicate stackers can also have jewels or gems all the way around, an initial or other singular design, or three stackables combined into one ring.
Solitaire – A band with a single stone is a timeless ring style, and many solitaires are designed to pair well with other stackable rings. This yellow gold mother of pearl ring will work great as a focal piece for your hand, with other delicate yellow gold rings complementing it. This classic rose gold stackable diamond ring is also a stunning solitaire that works well with various other stackable rings.
Open – These rings are not complete circles, but rather have an opening on the top side. They are unique, trendy, and great for stacking. This moon & star stackable ring is playful while still classy, while this tiny two-diamond ring is pure sophistication.
Moderate – A moderate ring falls somewhere between thin and bold. It can easily be worn by itself, but it also works great as a stackable ring when paired with a few delicate rings. This diamond braided ring falls into this category, as does this diamond baguette twist ring.
Bold – This criss cross diamond ring is a perfect example of an ornate or bold stacker, and so is this stacked marquise diamond ring. These are larger and more intricate, and they can be worn alone, with one or two other delicate pieces, or with multiple rings on the same hand.
How They Work Together
When it comes to stacking rings, less is more. Putting several ornate rings on one hand is a no-no, but several thin, delicate rings on one hand is perfectly acceptable. Feel free to play around and test out some different combinations.
Choose Something with a Story or Personal Meaning
• Try putting multiple rings on one finger while putting just a single ring on each of your other fingers.
Try one ring per finger, varying the ring styles.
Try making one finger the focal point of your hand with a moderate or ornate ring plus some thin rings, and then layer thinner rings on the rest of your hand.
Try including midi rings or fingertip rings to push layering even farther.
One way to ensure you're not going overboard is to choose rings of the same metal type or stone color. This will provide a more cohesive appearance without looking over-the-top.
With these tips and a huge variety of stackable rings on the market, you're sure to have a ton of fun decorating your hands each day and are sure to make a statement with your layered rings.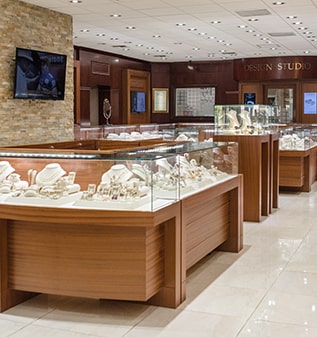 Visit us in real life.
4210 N. Federal Hwy.
Lighthouse Point, FL
33064
Visit us
Store location
Mon-Sat: —
Sunday:

Closed
4210 N. Federal Hwy.
Lighthouse Point, FL
33064
Save up to 15% on your first order.
Receive email updates on stuff you'll probably want to know about, including products, launches, and events. Unsubscribe anytime. Some exclusions apply…