Mikimoto Jewelry Marvels at Baselworld
By

Nina Glaser
·
March 30, 2015
Mikimoto was in full pursuit of the high-end market at Baselworld 2015, reaching out to consumers who are less likely affected by today's economy, with four pieces designed and crafted by the firm's Japanese team.
The four pieces feature exquisitely sourced and designed pearls, with production time for the quad one year in the making.
Plumage – This 18kt white gold five-strand feather necklace has Akoya and South Sea pearls, tanzanite, tsavorite, garnets, diamonds, sapphires, and Paraiba tourmaline.
Stream – A cascading 18kt white gold necklace with Akoya pearls and diamonds that resembles a woman's halter top.
Universe – An 18kt white gold coil with diamonds leading to a droplet with 10 South Sea pearls.
Duet – A sweeping necklace of 18k white gold that pairs Akoya cultured pearls with a conch pearl.
Another show-stopper was the Legend necklace on-display, a rose and white gold piece replete with a water opal surrounded by pink-sapphire-and-diamond jeweled insects and flowers leading to a 24mm Baroque white South Seas pearl.
Additionally, the new Blue Sonnet collection pairs Akoya cultured pearls with smooth turquoise beads.
Mikimoto has procured the finest-quality cultured pearls in the world for 122 years, ensuring that the Mikimoto name is synonymous with pearls around the globe.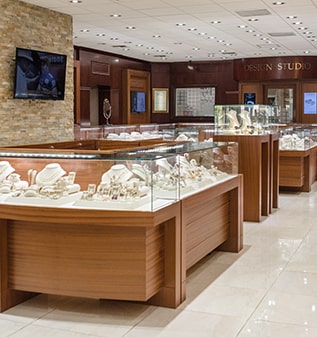 Visit us in real life.
4210 N. Federal Hwy.
Lighthouse Point, FL
33064
Visit us
Store location
Mon-Sat: —
Sunday:

Closed
4210 N. Federal Hwy.
Lighthouse Point, FL
33064
Save up to 15% on your first order.
Receive email updates on stuff you'll probably want to know about, including products, launches, and events. Unsubscribe anytime. Some exclusions apply…