Our Favorite Watches from Baselworld 2018
By

Jenna Fish
·
April 19, 2018
Baselworld is the world's largest and most well-known watch and jewelry show. It attracts international exhibitors who showcase gorgeous new pieces from the leading watch and jewelry brands and takes place in Basel, Switzerland. The Baselworld Watch and Jewelry Show has been around since 1917 and the annual event draws nearly 100,000 visitors. This past March, hundreds of watchmakers and jewelers released new pieces that have garnered the attention of enthusiasts across the world.
As an Official Rolex® Jeweler and authorized dealers for many other fantastic brands, we are more than thrilled with all the watch manufacturers have unveiled in their latest collections. Each year, watch companies present so many incredible new pieces that it's hard to narrow our favorites list down to just a few. That being said, we have utilized the opinions of our entire team to present to you our favorite watches from Baselworld 2018.
Rolex®
It's simply impossible to compile a favorites list without including multiple Rolex® models. Rolex® watches always set the standard at the Basel Fair—they are crafted with incredible precision from the finest materials available and their details and designs are absolutely impeccable. Here at J.R. Dunn, we are honored to carry a variety of Rolex® watches and be a part of the network of Official Rolex® Jewelers. We have the special equipment, technical know-how and necessary skills to sell and service Rolex® watches. We are so excited that Baselworld 2018 brought several new Rolex® watches on the market. We identified five new Rolex® watches that are absolutely stunning and just had to make it onto our favorites list.
Oyster Perpetual GMT-Master II
Considered "The Cosmopolitan Watch," The GMT-Master II still boasts its original iconic bezel, but with a myriad of new and innovative features. The 24-hour, red and blue ceramic Cerachrom insert, the bi-directional rotating bezel, the newly designed lugs and sides of the Oyster case and the five-link Jubilee bracelet are just a few of the stunning components of this watch. While our favorite version of the GMT-Master II is made completely from Oystersteel, this watch is also available in 18 ct Everose gold and Everose Rolesor, which is a combination of Oystersteel and the refined, exclusive alloy called Everose. Each of the GMT-Master IIs are equipped with the newest technology in watchmaking, the new-generation caliber 3285.
The history behind this watch is one of the reasons we still love it today. At the request of Pan Am Airways, this watch was created to help flight crews know what time it was in two different time zones at once. The iconic watch has become recognizable across the globe, particularly in the release of the newest GMT-Master II pictured here, which boasts the original red and blue ceramic Cerachrom insert from the 1955 watch. This timepiece is equipped with the classic Rolex® Oyster case, which guarantees waterproofness up to 100 meters. The way this watch looks along with its incredible configuration make the Oyster Perpetual GMT-Master II an easy pick for our favorites list.
Oyster Perpetual Cosmograph Daytona
The Cosmograph Daytona is breathtaking. You can't look at a set of watches and not have this beauty pop right out at you. Originally inspired by the world of motor sports and named after a Rolex®-sponsored "24 Hours of Daytona" car race, the Cosmograph Daytona was first introduced in 1963. Iconic actor Paul Newman wore one of these watches every day for over 35 years. It was sold at an auction in 2017 for over 17 million dollars, making it the most expensive wristwatch ever sold, which just adds to its allure.
The newest version of the legendary Cosmograph Daytona is adorned with a bezel full of sapphires, aligned in a gradation of rainbow hues. The chronograph counters are made of pink Gold Crystals, the hour markers are color-coordinated baguette-cut sapphires and the case boasts 56 diamonds that are set into the lugs and crown guard. The entire watch is 18 ct Everose gold, and all the brilliant-cut stones make it sparkle and shine in the most incredible way. This newest version of the Cosmograph Daytona is the perfect combination of the iconic Daytona style, classic Rolex® elegance and a touch of color and design innovation.
Oyster Perpetual Deepsea
The newest version of the Oyster Perpetual Rolex® Deepsea has newly designed sides and lugs, as well as a wider bracelet that has an Oysterlock safety clasp, perfect for preventing accidental opening and a perfect fit. The Deepsea timepiece was originally created for divers—it is waterproof up to 3900 meters (12,800 feet!) and easily adapts to the increased pressure that is an inevitable part of deep sea diving. The Ringlock System is what allows this watch to handle the pressure of the deep. It includes a case that is equipped with a helium escape valve, which allows pressure built up in the case to escape during the decompression phase of a dive.
In addition to being incredibly technological and innovative, the Deepsea watch has a cutting-edge style that is unmatched in the watch industry. It's made with stunning Osytersteel and boasts a remarkable dial that fades from deep blue to pitch black. The bezel rotates in just one direction, allowing divers to safely monitor their underwater time and is fitted with a black ceramic Cerachrom insert with numerals and gradations molded into it. The beveled edge allows for easy maneuvering of the bevel so divers can set their dive times easily and quickly, even with gloves on. The function of this watch is so impressive that it almost wouldn't matter what it looked like, but the aesthetic splendor of this watch just boosts its magnificence that much more.
Oyster Perpetual Datejust 36
The Datejust 36 is the archetype of the classic watch. The original was released in 1945. It was the first self-winding chronometer wristwatch that was also waterproof. Further, it also was the first watch to have a date display in place of the 3 on the clock face. It essentially took all the major innovations of a classic wristwatch that Rolex® had compiled up to that point and combined them all into a timeless, stylish, recognizable piece.
The Datejust 36 is available in multiple versions, including Everose Rolesor and Yellow Rolesor, both with various dial options. It comes standard with the Superlative Chronometer Certification, redesigned lugs and sides of the Oyster case and the innovative technology of the caliber 3235. Rolex® is known for multiple different innovations in watchmaking and style, but one of their most significant advancements is in the materials they utilize. Rolesor has been a signature feature of the Rolex® brand since 1933, and its combination of gold and steel was groundbreaking even then. It combines a precious, lustrous, stable metal with a strong, reliable, resistant metal to create a glorious conglomeration of durability and beauty. We adore these gorgeous watches for their timelessness and stunning simplicity.
Oyster Perpetual Datejust 31
The Datejust 31 is similar to the Datejust 36, as they were born from the same original Datejust design. This is one of the most classic, timeless watches that Rolex® produces. The Datejust 31 has newly designed case sides and lugs, and it is available in multiple designs. Our favorite design is the 18 ct white gold watch with a white mother-of-pearl dial and a stunning diamond-set bezel. One version in 18 ct Everose gold is fitted with a diamond-paved dial inlaid with mother-of-pearl butterflies. The most unique of the newest Datejust 31 watches is an 18 ct yellow gold version with a gorgeous green malachite dial and 46 brilliant-cut diamonds inlaid in the 18 ct yellow gold bezel. All of the Datejust 31 pieces are fitted on a President bracelet. This bracelet includes a concealed attachment system that gives the allusion of a seamless transition from the case to the bracelet.
All of these gorgeous design options carry the Superlative Chronometer Certification and come equipped with caliber 2236, a new generation mechanism that is self-winding and developed entirely by Rolex®. The oscillator contains a Syloxi hairspring that allows stability in the midst of temperature variations and still remains significantly more precise than traditional hairsprings when faced with shock. The Syloxi hairspring is also impervious to magnetic fields and works perfectly in any position. These mechanical details are vital to the understanding of the value of a Rolex®, and the caliber is just another feature of these stunning timepieces that make us love the Datejust 31 so much. When you pair that technological savvy with the splendid designs and aesthetic appeal, the Datejust 31 is a clear favorite amongst several other beautiful watches.
Breitling
Léon Breitling created the Breitling watch brand when he focused his entrepreneurial efforts on creating chronographs, which are simply display watches combined with stopwatches. When he began the company in 1884, chronographs were incredibly in-demand across industrial, athletic, military and scientific applications. When Léon passed away in 1914, his son Gaston continued his father's innovative legacy by releasing one of the world's first wrist chronographs. In 1952, the Breitling Navitimer was released with the still-relevant flight-specific slide rule, a tool that pilots still utilize today. While the company is no longer owned by anyone from the Breitling family, it continues its legacy in producing stunning and innovative designs that pay homage to the passion and spirit that birthed the company in 1884.
Navitimer Super 8
Keeping in line with the navigation + timer combination of the Navitimer product line, the Super 8 is a stunning piece that offers its wearers the ability to both tell the current time and track elapsed time. Its design was inspired by the reference 637, a stopwatch from the 1930s and 1940s that was strapped to the thighs of WWII bomber pilots. The self-winding watch is a chronograph that includes a triangular point that can be used to track time by rotating the unidirectional bezel. The case of the Navitimer Super 8 is made from steel or titanium, depending on which model you select, and the strap features an impressive brown leather. Our favorite design boasts the steel case and a black dial, while the other option includes a titanium case and a green dial. Both models have a screw-locked crown for easy maneuvering and as a nod to the original reference 637. The sleek, robust design of the Navitimer Super 8 paired with its innovative applications make it a shoo-in for our favorites list.
TAG Heuer®
Since the creation of the company in 1860, TAG Heuer® has revolutionized watchmaking, consistently contributing innovative designs, iconic models and ground-breaking technology to the watchmaking industry. The heartbeat of TAG Heuer® watches is that they are sturdy, stylish and reliable. Long ago, they made their mark on the world of motorsports and have more recently become popular amongst watersports professionals and amateurs, in the arts and contemporary music, in traditional sports, such as baseball and football as well as in extreme sports. The boldness and quality of TAG Heuer® watches has defined the brand for over 150 years. The company continues to make strides in innovation, creativity and utilization of the pioneering spirit.
TAG Heuer® Monaco Bamford
The TAG Heuer® Monaco watch has been in existence since the 1970s and has regularly renewed its design by adding new features and changing slight exterior aspects. This time around, TAG Heuer® has collaborated with watch customization leaders, Bamford Watch Department, to bring a new level of innovation to this already classic and recognizable watch. Bamford Watch Department is known for designing customized watches throughout England that are innovative, bold, exclusive and incredibly recognizable. The collaborative piece, the TAG Heuer® Monaco Bramford, is no different. It has been described as an "unprecedented interpretation of an iconic watch," and we agree whole-heartedly. This exquisite watch boasts a robust carbon case, aqua blue chronometers and a 39 mm striking square black dial. The chronograph counter and date window are marked in a luminescent aquatic blue, characteristic of Bamford pieces. If all that weren't enough, the cherry on top is a magnificent black alligator leather strap. We're confident that athletes, musicians and watch-lovers alike will all adore this robust, reliable and refined collaboration watch by TAG Heuer® and Bramford.
G-SHOCK
Just over 35 years ago, a Casio engineer requested permission to create a new watch. He wanted to attempt to design a watch that wouldn't break when dropped, despite the fact that watches are precision instruments that have several intricate mechanisms within them. After countless hours of researching, designing, testing prototypes, altering previous designs and repeating the cycle, the team of engineers assigned to the project finally developed an effective solution. In 1983, the original G-SHOCK DW-5000C was launched. The square design was implemented out of necessity and shock-resistance, and it has since evolved slightly but has also retained its shock-resistant roots. G-SHOCK watches are incredibly common amongst athletes, weightlifters, extreme sports junkies and other individuals whose lifestyles require durable, sturdy products.
G-SHOCK GMWB5000D-1
G-SHOCK's newest watch is absolutely ground-breaking, and we'd be crazy not to include it in our favorite watches from Baselworld 2018. It is their first all-metal men's 5000 model and still retains the G-SHOCK classic durability. It is inspired by the original DW5000 design and preserves the square-shaped bezel that is so iconic. The all-metal watch boasts a stainless steel housing, Bluetooth connectivity, an LED light, a solar battery and two-way time sync. It also includes all seven elements of G-SHOCK watches: electric shock resistance, gravity resistance, low temperature resistance, vibration resistance, water resistance (to 200 meters), shock resistance and toughness. The newest 5000 collection watch also has a stopwatch, countdown timer, full calendar, 12/24 hour format options, four daily alarms and a target alarm. We are thrilled that the ultimate tough watch is now available in a tasteful, refined and sophisticated all-metal design.
Tudor®
Tudor began as a brand in 1926 as a sister company of Rolex®, of which it remains today. The watches produced by Tudor® were meant to be a more affordable but equally as magnificent option as Rolex® to make them more accessible to more people. The main difference between the two brands is in the mechanisms within a Tudor®; the cases and bracelets have been of Rolex®-quality since the beginning. They even took on the waterproof Oyster case and self-winding rotor that were exclusive to the Rolex® brand. Tudor® is best-known as producing tool watches, which are watches that serve as tools to accomplish specific tasks beyond just telling time. The company's first diving watch was launched in 1954 and coined "the Oyster Prince Submariner." Within about a decade, the French Navy was purchasing the Submariner watches without bracelets; they were worn with military-issued straps or other pieces of fabric to make them more durable and comfortable. Since coined the NATO strap, fabric straps have become prevalent in the Tudor® portfolio as they better suit military service members, divers, athletes, pilots and others who live a more active lifestyle.
Tudor® Black Bay GMT
Our favorite Tudor® watch that was revealed at Baselworld 2018 is the Tudor® Black Bay GMT. It is based on the well-known Black Bay watch that first came out in 2012, but it has an added GMT function allowing multiple time zone displays. This incredible diving watch is inspired by the original diving watches that were launched in the 1950s and has the classic "snowflake" hands that display gorgeous geometric and angular characteristics. The large winding crown is a throwback to the first diving watch that was waterproof to 200 meters; the entire form and function of this watch is reminiscent of the Tudor® Submariner Reference 7922. The Tudor® Black Bay GMT is ergonomic and accurate and designed to withstand all the elements. The 24-hour bidirectional rotatable bezel is burgundy and blue. The dial is a fierce black and the case is polished and satin-finished steel. This sharp watch comes with the choice of a riveted steel bracelet, a brown leather strap or a black fabric strap with a burgundy stripe.
What's Your Favorite?
No matter your style or functionality preference, we're confident that one of the above-mentioned watches will suit you. Between diver's watches, multiple time zone displays, shock-resistant watches and simply gorgeous timepieces, Baselworld 2018 presented a glorious display of new and innovative pieces that we were thrilled to learn about. We hope that our list of favorites has given you some insight into some of these great watches. Whenever you're in the market to purchase a new watch or other piece of jewelry, we hope you'll think of J.R. Dunn.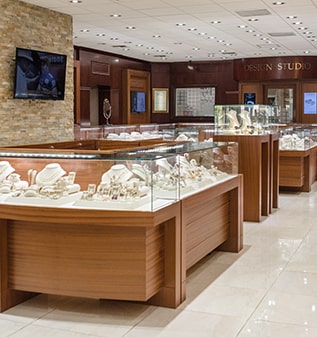 Visit us in real life.
4210 N. Federal Hwy.
Lighthouse Point, FL
33064
Visit us
Store location
Mon-Sat: —
Sunday:

Closed
4210 N. Federal Hwy.
Lighthouse Point, FL
33064
Save up to 15% on your first order.
Receive email updates on stuff you'll probably want to know about, including products, launches, and events. Unsubscribe anytime. Some exclusions apply…