Roberto Coin Taps Supermodel Arizona Muse for His 2015 Campaign
By

Nina Glaser
·
September 23, 2015
Arizona Muse is Roberto Coin's current muse and the face of the brand's new advertising campaign. She will be featured in photographs with numerous of the designer's collections, including Black Jade, Cento, New Barocco, Pois Moi and Tanaquilla.
One of the world's most sought-after models, Muse has graced the covers of the top fashion magazines, including Vogue in Australia, China, France, Great Britain, Greece, Italy, Korea, Mexico, Portugal, Russia, Spain, Turkey, Ukraine and the United States. She is no stranger to fashion and luxury good photo shoots, having worked with Estee Lauder, Fendi, Alberta Ferretti, Isabel Marant, Miu Miu, Prada, Nina Ricci, Jill Sander, Louis Vuitton and Yves Saint Laurent. The world's most renowned fashion photographers have been behind the lenses for these campaigns, including Patrick Demarchelier, Craig McDean, Steven Meisel and Paolo Roversi. McDean shot the Roberto Coin 2015 campaign as well as the designer's 2011 campaign.
"The concept is based in nature, art and beauty," said Coin. "Set in luxurious gardens, the visuals reflect the richness and sophistication of the current collections. By adding the stunning Arizona Muse to the landscape, it completes the perfect picture. She is the ideal ambassador for the brand and her international recognition only strengthens the Roberto Coin global footprint."
"Arizona Muse was a perfect choice for Roberto Coin," said Peter Webster, president of Roberto Coin Inc. "She possesses an effortless beauty and elegance that has only been seen in such style icons as Grace Kelly and Sophia Loren. Arizona epitomizes the Roberto Coin woman."
The "Ambassador of Italian Style," Roberto Coin creates more than 600 new models of each year to serve a diverse international market. His collections are featured in more than 1,000 shops in more than 60 countries around the world.
The Roberto Coin 2015 advertising campaign will break on October 1, 2015. Print and digital editions will be seen on the pages of Harper's Bazaar, More and Town & Country magazines, as well as The New York Times and The Wall Street Journal.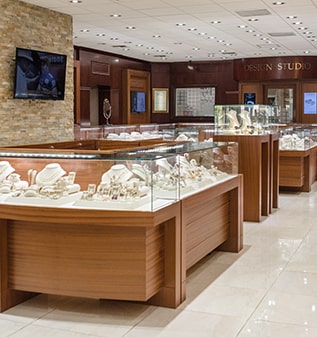 Visit us in real life.
4210 N. Federal Hwy.
Lighthouse Point, FL
33064
Visit us
Store location
Mon-Sat: —
Sunday:

Closed
4210 N. Federal Hwy.
Lighthouse Point, FL
33064