Roberto Coin's Tanaquilla Collection at Baselworld 2015
By

Nina Glaser
·
March 23, 2015
Prolific jewelry designer Roberto Coin introduced three new lines at Baselworld 2015: Tanaquilla; Falco (Italian for falcon), the latest limited-edition ring to grace the Animalier collection; Golden Gate and Princess, along with a new interpretation of the Baroque period-inspired Barocco and black-sapphire-and-white-diamond Pois Moi pieces. As always, attendees were both surprised and delighted!
The inspiration for the yellow gold-fashioned Golden Gate collection was San Francisco, CA's Golden Gate Bridge. The pieces feature a self-closing clasp.
Named for the legendary Etruscan prophet Tanaquilla, who was married to the Roman Emperor Lucius Tarquinius Priscus and renowned for her spinning and weaving skills, Coin has woven pieces of wearable art that embody the beauty of an ancient civilization.
The pieces in the Tanquilla collection, the latest collection of Haute Joaillerie from Roberto Coin, includes rings, cuffs, earrings and choker necklaces set with yellow and chocolate diamonds. They were clearly designed for women who are strong and feminine, just like the emancipated woman for whom they are named!
The Etruscans were responsible for teaching the Romans the alphabet and spreading literacy throughout the Italian peninsula; the Tanaquilla collection has inspired social network communication, with special hashtags to accompany photographs of Baselworld visitors wearing a mask created for the occasion that echoes the jewelry design in front of a backdrop of Venetian scenery, such as #iamTanaquilla, #RobertoCoin and #Baselworld. (The mask pays homage to Coin's Venetian roots, which are never far from his heart or mind.)
The development of ancient Roman art and culture, and the Italian Renaissance were set in place by the achievements of the Etruscans, who were the first superpower of the Western Mediterranean. They established the most important cities in modern Tuscany, including Florence, Pisa and Siena.
The rose gold-feathered Falco joins the Roberto Coin menagerie beautifully, with black, brown and white diamonds, and gemstone eye.
Roberto Coin has a personality that's larger than life, and his joie de vivre is reflected in his imaginative, creative pieces of jewelry. He shows, with each and every collection a breathtaking ability to go beyond the boundaries of typical jewelry structure. The seductive Tanaquilla collection is no exception!
The jewelry created under the Roberto Coin brand is distinctive and bear the mark of Vicenza, Italy along with a signature synthetic ruby. Only synthetic rubies are used, guaranteeing that none of them originated from a region in turmoil. All diamonds used in the 18kt gold pieces are acquired from legitimate sources from areas free of conflict.
Roberto Coin's most sought-after collections are offered at more than 800 points of sale in 53 countries. Admirers and satisfied clients can be found in Europe, Asia, North America and South America.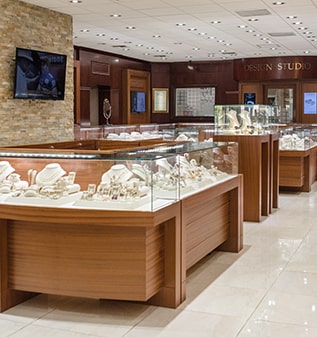 Visit us in real life.
4210 N. Federal Hwy.
Lighthouse Point, FL
33064
Visit us
Store location
Mon-Sat: —
Sunday:

Closed
4210 N. Federal Hwy.
Lighthouse Point, FL
33064