South Florida Jewelers' Diamonds of Distinction
By

Nina Glaser
·
May 20, 2014
Songs have been written about them (The Beatles' "Lucy in the Sky With Diamonds" is about a 10 billion-trillion carat diamond 50 light years from the earth), they have been the subject of quotes cited (the oft-married Zsa Zsa Gabor said, "I have never hated a man enough to give his diamonds back."), and had an unwavering popularity for generations.
What are they?
DIAMONDS! Formed from carbon that has been put under intense pressure and temperature deep within the earth, the journey of today's diamonds began billions of years ago. One of the best-known and most sought-after gemstones they are highly regarded for their exquisite beauty. Diamonds are the most precious and enduring of all gemstones in the world, and have a universal appeal. This beautiful, mysterious, and rare material is one of the hardest (58 times harder than anything else found in nature) and most valuable found on the planet. A timeless classic, their beauty never fades.
Today's diamonds are not your mother's (or your grandmother's) gemstones: they're yours, and they have come to represent more than just love and marriage, which they've symbolized since at least the 15th century. The fact is, in our society, diamonds are given as engagement rings and wedding bands, worn as cocktail rings, and have started appearing as right-hand rings among strong, independent and successful women.  The diamond is also the birthstone for those born in the month of April, and is the gem that marks 60th and 75th wedding anniversaries. Throughout the last century and prior, diamonds were offered to celebrate life's most important moments, from engagements to wedding, anniversaries and the birth of a child.
And now, a brief history of famous diamonds (and there are many on record):
The Hope Diamond (the "King's Jewel"), described as the "most famous diamond in the world," is currently housed in the Smithsonian Natural History Museum in Washington, DC following a very colorful  (for lack of a better word!) history. Its saga includes being owned by King Louis XIV, stolen during the French Revolution, sold to earn gambling money, and worn for fundraising. This 45.52-carat fancy dark grayish-blue diamond gained notoriety as a stone that is cursed. Its estimated value is $200-$250 million U.S dollars.
 The Koh-i-Noor ("the "Mountain of Light"), originated in India and was 793 carats prior to cutting. Now a 105.6 carat diamond of the finest white color, clarity and transparency, its cut is called a "stellar brilliant" because of extra facets on the stone's pavilion. The Koh-i-Noor is part of the British Crown Jewels, currently set into the Crown of Queen Elizabeth IItaylor (the Queen Mother), and on display at the Tower of London. If Kate Middleton, the wife of Prince William, who is second in line to the throne, eventually becomes queen consort she will don the crown holding the diamond on official occasions.
The Taylor-Burton Diamond, famous for being the first million-dollar diamond, received publicity when actor Richard Burton purchased the gem for then-wife Elizabeth Taylor…at her request after he insulted her hands. She wore the 68-carat pear-shaped gem – a D-color, flawless stone -- as a necklace to Princess Grace of Monaco's 40th birthday celebration and to the 1970 Academy Awards (it was initially set in a ring).
Sometimes it's the people who wear – and/or have given – large diamonds who have name-recognition:
Jacqueline Kennedy and Aristotle Onassis – 40.42 carats Marquise Lesotho III diamond
Beyonce's and Jay Z – 18 carat flawless Octagon-cut set in a platinum split base
Angelina Jolie and Brad Pitt – 16 carat custom-designed Emerald-cut
Kim Kardashian and Kanye West – 15 carat Emerald- or Cushion-cut
Avril Lavigne and Chad Kroeger – 14 carat Pear-shaped
Hilary Duff and Mike Comrie – 14 carat Princess-cut
Grace Kelly and Prince Rainier of Monaco – 10.47 Emerald-cut diamond flanked by two diamond baguettes
Gabrielle Union and Dwayne Wade – 8.5 carat Cushion-cut
Jennifer Aniston and Jason Theroux – 8 carat Oval-set Radiant-cut
Amal Alamuddin and George Clooney – seven carat Emerald-cut
Jessica Biel and Justin Timerberlake – vintage-inspired six-carat Radiant- or Princess-cut
Kristin Cavallari and Jay Cutler – 5.2 carat Asscher-cut
Jessica Alba and Cash Warren – 5 carat Asscher-cut
And not all famous women sport rings where fancy diamonds take "center stage":
Thinking Pink – 

Songbird Mariah Carey and actress Blake Lively have pink diamond engagement rings from husbands Nick Cannon and Ryan Reynolds, respectively.
Walking on Sunshine – 

The husbands of country music sensations Carrie Underwood (hockey player Mike Fisher) and Kelly Clarkson (Brandon Blackstock, her manager's son) as well as actress Rebecca Romijn (actor Jerry O'Connell) both popped the question with yellow diamonds (as did Donnie Wahlberg when he got engaged to Jenny McCarthy).
What do you need to know about buying diamonds (things get a little more "technical" here)?
They're graded and certified based on "The 4 C's" which, together, are the global language of diamond quality:
1.  Color (diamonds can be found in every color, including colorless)
The Gemological Institute of America (GIA) rating system for color is universally accepted, and assesses diamonds from "D" to "Z", with the finest-quality diamonds – those absolutely free from any color -- receive a grading of "D". Gemstones scored "F" are colorless, "G"-"J" are near-colorless, "K"-"M" slightly colored and "N"-"Z" yellow or brown in appearance.
The hue and coloration of a diamond can either detract or enhance its value.
Diamonds with unusual or intense coloration are sometimes labeled "fancy" diamonds. Large, vivid fancy color diamonds are extremely rare and very valuable. Among the rarest: red, green, purple and orange, followed by pink and blue. Yellow and brown diamonds are the most common fancy colors.
 2. Cut, which describes the manner in which a diamond has been shaped and polished from rough stone to final gem. This is both an art and a science.
There are mathematical guidelines for the angles and length ratios for cutting diamonds to reflect the maximum amount of light the best to show their "fire" (which comes from a diamond's hardness and dispersion of light) and brilliance; a variety of shapes accentuate these characteristics.
 3. Clarity, a measure of inclusions (internal defects)
Did you know that only approximately 20 percent of all diamonds mined have a clarity rating high enough for it to be considered appropriate for use as a gemstone?
 4. Carat, which measures the mass of a diamond.
A big – five-carats or more – diamond shows the stone's natural beauty. Large diamonds are rare and more desirable for use as gemstones. Where are they? At J.R. Dunn Jewelers, of course!
You can buy with confidence at – and be confident in –J.R. Dunn Jewelers, which does everything in its power to ensure their diamonds are conflict-free, by adhering to the regulations of the Kimberley Process. J.R. Dunn Jewelers purchases diamonds from legitimate sources not involved in funding conflict and in compliance with United Nations regulations. Additionally, the family business has been delighting customers with expert professional and personal service for 45 years!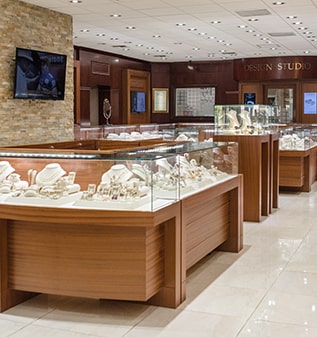 Visit us in real life.
4210 N. Federal Hwy.
Lighthouse Point, FL
33064
Visit us
Store location
Mon-Sat: —
Sunday:

Closed
4210 N. Federal Hwy.
Lighthouse Point, FL
33064