Jewelry Designer Stephen Webster Adds Author to his Repertoire
By

Nina Glaser
·
December 7, 2015
A jewelry designer extraordinaire and Member of the Most Excellent Order of the British Empire (MBE), Stephen Webster is also now a published author!
Gold Struck:A life Shaped by Jewelry, his jewelry journal, made its debut in November 2015. It is, essentially, a love letter culled from a 40-year love affair working in gold.
The entertaining book is based on diary entries and contains original poetry and a short story. On-page elements include musings on his life experiences; reproductions of his stunning creations that span 14 collections, including:
Thorn, which explores the details of barbs and spikes in a chic and timeless jewelry collection.
Crystal Haze, which showcases Webster's innovative spirit! By fusing a faceted crystal over a precious gemstone, the designer developed the crystal haze process, producing a color unique to the timeless and ultra-feminine collection.
The Jewels Verne collection has an aquatic-fantasy motif inspired by the 1870 literary classic "Twenty Thousand Leagues" by Jules Verne. Victorian-inspired pieces of blackened silver visit sea creatures like lobster, octopus, shark and fish tails.
The Murder She Wrote collection features black diamonds, emeralds, rubies and sapphires prominently. Pieces present an air of intrigue. The "author" is a combination of femme fatale and English country home grand dame!
Fly by Night celebrates creatures from a magical forest. The seductive pieces are meticulously detailed and seductive. Enter a world of woodland delight!
The striking, oversized pieces in the Magnipheasant collection are modeled after brightly colored male pheasants. Marquise-shaped, hand-selected gemstones include amethyst, citrine, garnet, opal, colored sapphires and spinel tipped in black diamond pave.
It is clear from Webster's Lady Stardust collection that he was clearly influenced by David Bowie's Ziggy Stardust persona when he created jewelry that is a little bit rebellious with a rock 'n roll edge. Pieces feature a lightning bolt motif and classic herringbone pattern. The chevron-like design is accented with black and white diamond pave. Brightly colored sapphires are also incorporated into the 18K white and rose gold jewelry. Sapphires, pearls and pave in graduated color result in a "dip-dye" effect.
Couture Voyage pays homage to the architecture of New York, Russia, the Middle East, Hong Kong and Africa.
Accolades from luminaries in the art, entertainment and fashion worlds; and insights into what has inspired and influenced his work for many decades make for a fascinating read. Intricate sketches and designs, archival imagery, magazine editorials, advertising campaigns, and photographs from the designer's personal collection round out the contents.
The photographs within the 400-page book were taken by Rankin and Amelia Troubridge, and a forward by Webster's friend Tracey Emin.
"Gold Struck" is an intimate book with an accessible style; the perfect holiday gift for jewelry-lovers!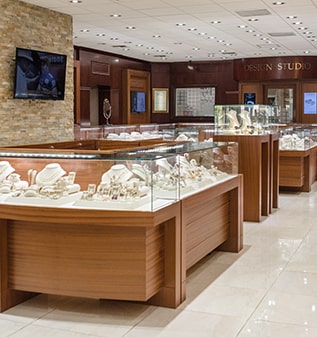 Visit us in real life.
4210 N. Federal Hwy.
Lighthouse Point, FL
33064
Visit us
Store location
Mon-Sat: —
Sunday:

Closed
4210 N. Federal Hwy.
Lighthouse Point, FL
33064