Stephen Webster's Gold Struck Collection Strikes Gold
By

Nina Glaser
·
March 26, 2015
Once again exploring what it means to be British, and paying homage to his heritage with luxury jewelry, a-typical designer Stephen Webster unveiled his new Gold Struck collection at Baselworld 2015.
His inspiration for Gold Struck was inspired by the legendary discovery of a large cache of assorted Elizabethan and Jacobean jewelry in the Cheapside neighborhood of London beneath a department store. Why the jewels were hidden remains unknown.
The Gold Struck collection features bold, colorful gemstones like tanzanite, ruby, orange sapphires and emeralds in rose, yellow and white gold. They are irregularly faceted, and multi-shaped and sized, working together impeccably well.
The collection is a fabulous follow-up to Webster's Magnipheasant collection. The brightly colored and adorned male pheasants were clearly the models for the Magnipheasant collection. The striking, oversized pieces crafted with marquise-cut hand-selected gemstones like amethysts, citrines, topaz, opals, garnets, spinels and colored sapphires are tipped in pave black diamonds to depict the pheasant's distinctive feathers.
The Gold Stuck collection also pairs well with another Webster collection: Lady Stardust. Inspired by David Bowie's Ziggy Stardust persona, the Lady Stardust collection has a rock 'n roll edge and looks a bit rebellious. Pieces depict the famous lightning bolt motif – a now iconic geometric pattern – featured on Bowie's renowned "Aladdin Sane" album cover. A classic "herringbone" pattern, a chevron-like design accentuated by white and black diamond pave, as well as skillfully set and brightly colored sapphires are also incorporated into the 18kt white and rose gold jewelry. A "dip-dye" effect of graduated color is achieved through sapphires, pearls and pave.
Vibrant colors are a common denominator of the aforementioned collections; it is the cornerstone of his creations. The unconventional collections can also be deemed "conversation starters," as they invite questions.
The designer is bold and adventurous, with a distinct vision, inimitable style and impeccable attention to detail.
Webster's British heritage and passion for traditional goldsmithing is at the heart of the brand that bears his name. The goldsmithing techniques of the 16th century are currently of particular interest.
"Last year, the Cheapside Hoard was exhibited in London, and what struck me most was the vast array of gems, pearls, techniques and details used to create these truly exquisite pieces. The 2015 fine jewelry collection, Gold Struck, is inspired by this legend. It is a celebration of art and design."
Webster was appointed Member of the Order of the British Empire (MBE) from Queen Elizabeth in 2013 for his service to the British jewelry industry.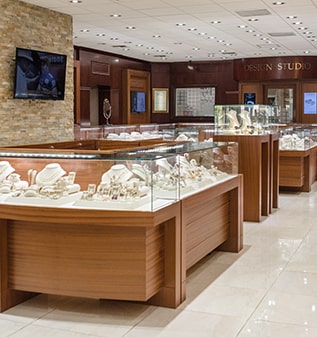 Visit us in real life.
4210 N. Federal Hwy.
Lighthouse Point, FL
33064
Visit us
Store location
Mon-Sat: —
Sunday:

Closed
4210 N. Federal Hwy.
Lighthouse Point, FL
33064