Blog
When making the decision to purchase a diamond engagement ring, it is not unusual to feel a little intimidated on knowing what to look for. It is likely a big investment and is important to educate yourself first to ensure lasting quality.

From the cut of the diamond and the metal of the band to the details of the different settings—it can be quite overwhelming. That is why we are here to educate you so that you can.......
By

Jenna Fish
·
June 14, 2017
When you buy a big diamond, you get big benefits! A large stone shows off a gem's natural beauty. They are more precious. And make a statement. Take a look at these six rings. They are remarkable!
By

Nina Glaser
·
August 28, 2015
Recently, I was in a lecture hosted by the GIA (Gemological Institute of America) Alumni Association and AGS (American Gem Society) Guild of South Florida given by Art Samuels, GG GIA, in which he asked the assembled group of many gemologists and jewelry industry professionals, "Is fluorescence in diamonds a bad thing? Would you personally buy a diamond with 'strong' fluorescence to give to your future spouse?" The practically unanimous answer was a resounding "No!"
By

Bianca Kawecki
·
June 18, 2015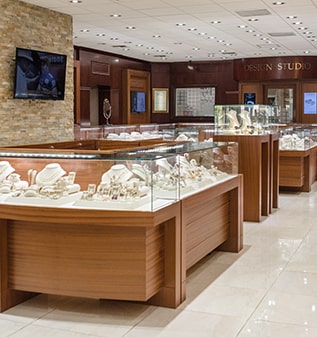 Visit us in real life.
4210 N. Federal Hwy.
Lighthouse Point, FL
33064
Visit us
Store location
Mon-Sat: —
Sunday:

Closed
4210 N. Federal Hwy.
Lighthouse Point, FL
33064