What Makes Henri Daussi Unique: Q&A with Jeff Daussi Loots
By

Jenna Fish
·
July 24, 2017
Henri Daussi, headquartered in the heart of New York City, was founded over 60 years ago in Antwerp, Belgium by Henri Daussi Loots, cutting some of the world's most beautiful and brilliant diamonds. We, at J.R. Dunn Jewelers, are proud to introduce the Henri Daussi line to our family representing incredible craftsmanship and design in each and every piece.
One June afternoon, we sat down with Jeff Loots, grandson of the founder of the company who currently carries on the family legacy to get to know the brand on a more intimate level.
J.R.D: What are three words that embody a Henri Daussi ring?
J.L: Classic. Value. Brilliance.
J.R.D: How would you describe the Henri Daussi persona?
J.L: Because we have such a large selection, we don't have a specific type of person who represents the brand. From first time engagement rings to larger, more elaborate anniversary rings; every ring has a person out there. It's amazing. You can look at every ring in the store and there will always be that one that is just meant to be.
J.R.D: What sets your rings apart from other engagement rings in the market?
J.L: We source a different type of rough diamond and cut it in a way to appear a lot larger but also doesn't lose its brilliance. Others have tried to replicate it but just kill it. We hand make the setting around each center stone so that it fits perfectly around the natural curves.
J.R.D: From your introduction to our team, it seems like customer service is incredibly important to the company's values.
J.L.: Absolutely. We don't work with everyone, so we make sure we get the perfect piece. It's personal, it's like a relationship.
J.R.D: Can you tell us a little about the heritage and origins of Henri Daussi?
J.L.: My grandfather, Henri Daussi, was always an incredible diamond cutter. It's a family business... I learned from my father who learned from his father. My grandfather was the first person to be able to actually cut into a diamond; from horseheads, butterflies, to the incredibly classic heart shaped diamond. Our jewelry becomes a part of people's lives, an heirloom passed down for generations to come. We aren't a corporation, we are a family.
"Our goal is to make everything amazing to begin with." - Jeff Loots
The Henri Daussi collection is as elevated in beauty as it is in integrity and service. From their signature cushion cut to classic brilliant, you are sure to find something elegant and unique. Not only do they offer stunning diamonds and engagement ring settings, but also carry wedding bands for both men and women. We invite you to join us in our showroom or online shop and discover the new collection yourself.
Jim Dunn and Jeff Loots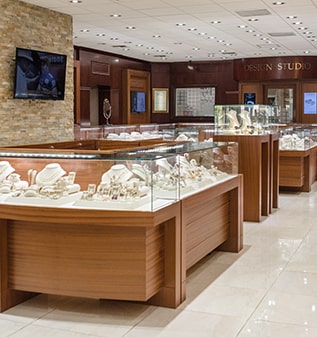 Visit us in real life.
4210 N. Federal Hwy.
Lighthouse Point, FL
33064
Visit us
Store location
Mon-Sat: —
Sunday:

Closed
4210 N. Federal Hwy.
Lighthouse Point, FL
33064