For centuries people have been fascinated with the lore of gemstones. They have been believed to hold protective, healing and even magical powers. But in the real world, the most powerful thing that gemstones can do is mark unforgettable moments in life that you share with the people you love. Color My Life is modern twist on a timeless classic, gemstone jewelry. This exclusive collection from J.R.Dunn Jewelers is the ideal gift to celebrate life's most cherished moments. Whether it is a loved one's special birthday, anniversary or the birth of child, you want to give a gift that has personal meaning and will be treasured for a lifetime.

> LEARN MORE ABOUT COLOR MY LIFE

Birth of a Child

Each Color My Life creation tells a life story that is uniquely your own. Let's say you and your wife are expecting your first child in January. You start with the "Garnet Fiore", which is the January Birthstone, on a simple chain. Then you wish to add you and your wife's birthstone on either side to complete your new family. With Color My Life's unique patent pending design each "Fiore" pendant nestles neatly into each other creating a stunning necklace that can be added to as your family grows. To see Color My Life pieces in created for a particular month's birthstone shop by month on the left. Is there a combination of gemstone Fiore's you'd like to see together? Just call us at 866-362-5787 and we'd be happy to send you a pic of your creation.

Anniversary Gift

You're a traditional guy but the tradition of giving pottery for your eighth anniversary just doesn't seem like it is going to do the trick. Good news is you have colorful options, the American Gem Trade Association created a list of gorgeous gemstones to commemorate each special year you spend together. For your eighth anniversary you can't go wrong with a pink tourmaline "Fiore". Our vibrant "Fiores" can be worn as bracelets, earrings, necklaces and rings. So whether it is your first anniversary or your eightieth there is a "Fiore" to represent your joyous occasion. To shop by anniversary take a peak over on the left hand navigation of our site.

Mix and Match

Color my life give you the ability to mix and match memorable moments that make up the highlights and milestones of one's life. Imagine the sheer joy of a grandma who receives a charm bracelet with five "Fiores" for each of her grandchildren each in their own birthstone and a sixth sapphire "Fiore" that celebrates her and Grandpa's 45th anniversary. Let your imagination go wild, at this point we know gemmy colored lightbulbs are appearing everywhere.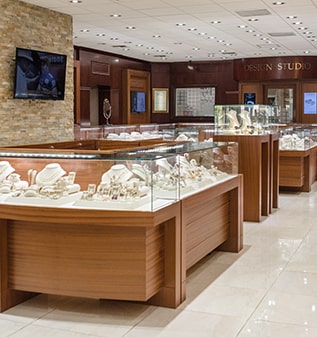 Visit us in real life.
4210 N. Federal Hwy.
Lighthouse Point, FL
33064
Visit us
Store location
Mon-Sat: —
Sunday:

Closed
4210 N. Federal Hwy.
Lighthouse Point, FL
33064
Save up to 15% on your first order.
Receive email updates on stuff you'll probably want to know about, including products, launches, and events. Unsubscribe anytime. Some exclusions apply…