Emerging Trends in Fine Fashion Jewelry for Fall 2015
By

Bianca Kawecki
·
July 29, 2015
Every summer, the jewelry industry descends upon Las Vegas for "Market Week", when retailers choose the styles to carry in their stores. Luckily for you, what happened this last June in Vegas is not a secret anymore! Here's the scoop on what fashion buyers were raving about and what you can expect to see as the hot trends this fall.

If one metal were to be the superstar this year it is yellow gold! The metal type peaked in popularity in the 80s, and was made iconic by the Mr. T character and his lavish display of gold chains in the "A-Team" television program. (For #ThrowbackThursday, here's a blast from the past photo of Mr. James R. Dunn himself, sporting the iconic "Mr. T" look. This was part of a marketing campaign our store once had where the tag line was "Mr. T has nothing on me." And Mr. T really pales in comparison to Jim Dunn, for Mr. Dunn is truly a one of a kind maverick in so many ways. Interesting enough, here is a fashion visionary modeling several trends I am about to write about for 2015.)

In the 90s and 2000s, we saw a shift in taste from yellow to white metal, either white gold, platinum, or silver. However, with the millennial generation's embrace of the 80s aesthetic (welcome back neon!), yellow gold is coming back big and with a vengeance. We will see its heavy presence within many other trends on this list. The biggest new directions in jewelry now are a prevalence of geometric shapes, "gladiator" rings, ear cuffs, climbers, and jackets, links, collars, choker necklaces, and wearing all these styles in a stackable fashion.
Geometric styles are making a bold statement right now and these designs from Lana Jewelry really fit the bill.
Long angular triangles, chevron patterns, pyramids, and other abstract shapes make this trend on point!
As you can see these can have diamond pave accents, but the over-all geometric shape is very prevalent in all these examples.
Gladiator Rings
"Gladiator" rings are ones that mimic the look of laced up gladiator-style sandals. It's an open and big look created with micro-pave set diamonds. Mixing and matching metal types is also encouraged. While you may not want to wear this many different rings on one hand, as you can see below, these rings look good when worn in combination:
Furthermore, in this J.R. Dunn Jewelers exclusive piece on the right, we have a stacked look of many bands but spaced out into the "gladiator" type that exposes the skin underneath. From left to right, White, Yellow and Rose versions.
Ear Cuffs, Climbers and Jackets
Last year we saw the introduction of the vine earrings climber which became an instant hit:
This trend has blown-up to such an extent that vine earrings, also called "climbers" are a jewelry staple. A year later this trend shows no sign of ending anytime soon. In fact, this style is being talked about as a "new essential" on par with diamond studs or chandelier earrings, pieces of jewelry that you will wear for decades, not a single season. If your fashion aesthetic leans toward "classic" rather than "trendy" this maybe the most accessible style for you to embrace. It will elevate your jewelry wardrobe to the current date and worth the investment of diamonds and gold. If you were previously hesitating because you wondered about how long-lived this look would be, I predict this look is here to stay, so don't hesitate any longer. Jump in!
With vine earrings or climbers the "new essential" earring style, those fashionistas on the leading edge of design are pushing the look to even more uncharted territory. Designers are creating styles of "climbers" that are more angular and more geometric.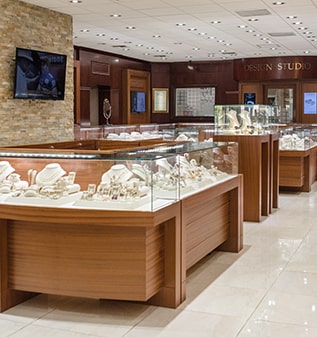 Visit us in real life.
4210 N. Federal Hwy.
Lighthouse Point, FL
33064
Visit us
Store location
Mon-Sat: —
Sunday:

Closed
4210 N. Federal Hwy.
Lighthouse Point, FL
33064
Save up to 15% on your first order.
Receive email updates on stuff you'll probably want to know about, including products, launches, and events. Unsubscribe anytime. Some exclusions apply…