Robert Pelliccia & RJ Boyle Bring Sports Fishing Jewelry to Life
By

Nina Glaser
·
March 9, 2016
We have probably all heard fish tales about the one that got away. Now, there is a new tail to tell; one that serious anglers, as well as people who love to fish, will want to hear. It's the tale of the "golden" fish tail, highly detailed sport fishing pendants created by J.R. Dunn Jewelers' award-winning designer Robert Pelliccia and the renowned Captain R.J. Boyle.
Sport fishing jewelry has rarely captured the true detail as seen by anglers. This is what prompted Boyle to present Pelliccia with a tail from a 300-pound swordfish caught in August 2015. He also brought a question and a challenge.
"Is it possible to realistically show the intricate beauty of a swordfish tail on a piece of jewelry?" Boyle asked.
He proceeded to show Pelliccia the little details of what makes a swordfish tail unique unto itself.
"The meat on any pelagic fish tail shows aging rings similar to that of a tree. As for the tail itself, you will also notice ridges of age and growth," said Boyle. "I've never seen a piece of jewelry that captured the essence of a realistic fish tail. Can we do it?"
Pelliccia, fascinated by what he saw up close, wanted to push the technical side of the art of making jewelry to the limit.
"Seeing an actual three-dimensional swordfish gives one a perspective that you can't get from any photograph. The real challenge, though, is that you are taking something that in real life is very large with tiny details and then trying to 'shrink them down' into a wearable piece of jewelry without losing all the wonderful details," he said. "It's a very fine balancing act to achieve, but I think we've done it! R.J. is incredibly knowledgeable about what he does. The jewelry needs to be able to pass his critical eye as well as my own.
For anyone who has fought and landed a good sized swordfish, it is an unforgettable experience. A swordfish tail pendant is a stylish way to commemorate that special moment.
Other fish, whose tails will be immortalized, include the sailfish, marlin, yellowfin tuna and wahoo. The realistic pieces will be crafted in gold and silver, available with and without diamonds. All of the fish tails will be exclusive to J.R. Dunn Jewelers.
The partnership between Pelliccia and Boyle is a natural fit. The accomplished jewelry designer, the recipient of 17 major design awards, including those from DeBeers and the American Gem Trade Association (AGTA), has always had a special relationship with the water. As a child he fished every day. He enjoys snorkeling and marvels at the creatures of the sea, with deep appreciation for its variety and vibrancy. Boyle, the fisherman, grew up around the arts and is an accomplished sculptor and painter. His art is inspired by life on the water. Boyle's work has been commissioned around the world. His passion extends to tackle, so his business is both a studio and tackle shop. The store also stocks Boyle's custom clothing, swordfish bills with his original paintings on them, and swordfishing instructional films.
If you are looking for something unique for the sport fishing enthusiast in your life, look no further than one of the fish tails of Robert Pelliccia and R.J. Boyle! They are suitable for men and women. Best of all, they tell a story; a beautiful fish tale.
Click to View the Swordfish Pendants Available Exclusively at J.R. Dunn Jewelers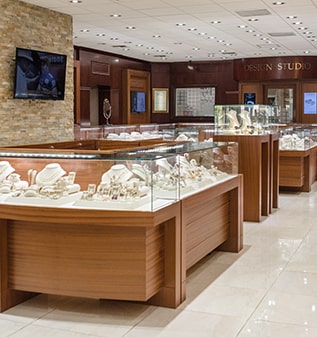 Visit us in real life.
4210 N. Federal Hwy.
Lighthouse Point, FL
33064
Visit us
Store location
Mon-Sat: —
Sunday:

Closed
4210 N. Federal Hwy.
Lighthouse Point, FL
33064
Save up to 15% on your first order.
Receive email updates on stuff you'll probably want to know about, including products, launches, and events. Unsubscribe anytime. Some exclusions apply…