Every fisherman has his tale, and now he or she can have his tail and wear it, too! Renowned Captain R.J. Boyle and J.R. Dunn's award-winning in-house designer Robert Pelliccia have joined forces to create highly realistic, richly detailed sport fishing pendants. The special and unique pieces immortalize fish tails of swordfish, sailfish, marlin, yellowfin tuna and wahoo in karat gold and sterling silver. They are available with and without diamonds, and show the intricate, inherent beauty of a fish tail, including aging rings and growth ridges. Fish tail jewelry is suitable for male and female sport fishing enthusiasts alike. The artists' collaboration has taken the technical side of jewelry-making to a whole new level; make it your catch of the day today! Each and every fish tail is a J.R. Dunn Jewelers' exclusive.
The artists share a mutual respect for each other and the sea. Pelliccia fished every day as a child and still snorkels, marveling at the shapes and colors of sea creatures. Boyle's paintings and sculpture are inspired by his life on the water. Both men also possess a critical eye; their fish tails are no ordinary pieces of jewelry!
> READ HOW A SWORDFISH TAIL BRINGS SPORT FISHING PENDANTS TO LIFE
Swordfish Tails by Robert Pelliccia and R.J. Boyle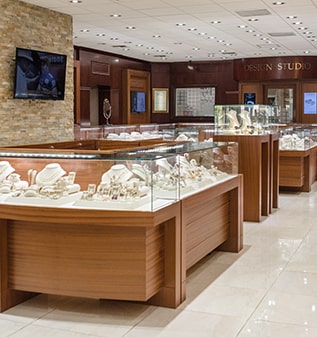 Visit us in real life.
4210 N. Federal Hwy.
Lighthouse Point, FL
33064
Visit us
Store location
Mon-Sat: —
Sunday:

Closed
4210 N. Federal Hwy.
Lighthouse Point, FL
33064
Save up to 15% on your first order.
Receive email updates on stuff you'll probably want to know about, including products, launches, and events. Unsubscribe anytime. Some exclusions apply…