Secrets of the Jewelry Trade
By

Nina Glaser
·
March 13, 2015
Customer service and business ethics are at the core of J.R. Dunn Jewelers. The family-owned-and operated company has built a reputation of integrity and trust over 45 years, in part by taking some of the mystery – but never the mystique -- out of the business. We are happy to share some of the jewelry business's "classified information," because we firmly believe that an informed client is a wonderful client!
Knowledge is Power!
In today's market, many gemstones are enhanced in some way to make them more aesthetically appealing. This is typically seen with emeralds, rubies and sapphires. Methods of enhancement include exposing the gem(s) to low or moderate heat to make inclusions melt, thereby improving the stone's color and clarity; bleaching to lighten or create a more uniform color, filling the gem with glass, oil, resin or wax.
• Ask where your jeweler gets emeralds from, and if the treatment is minor, moderate or significant. Remember, if an emerald has been treated with oil, it may need to be treated again once the oil dries out. Also, verify if a clear treatment was used (this is the accepted standard in the industry).

• When buying a ruby, ask if it has been treated. If it has been treated, ask if it includes lead glass.
Customer Service Matters Matter!
• Purchase your jewelry from a knowledgeable, reputable source.
• You owe it to yourself to deal with a jeweler with a generous return policy.
• If you're buying an expensive piece, get an appraisal that will ensure "genuine" also means "valuable."
Jewelry appraisals at JR Dunn Jewelers are done on-site by a Graduate Gemologist, who meets the guidelines established by Jewelers of America, Inc. Watch and fine jewelry appraisals, as well as updates, are complimentary for all fine jewelry purchased from our showroom. For pieces purchased elsewhere, an appointment can be made and a nominal fee paid for this service.
• Your jewelers' appraiser(s) should be able to identify gems, grade diamonds, know the market, find comparisons, and understand the difference between retail replacement, liquidation and estate values.
Diamonds
• The best diamond is a clean diamond – literally! An imperfect stone that has been cleaned of debris will look infinitely better than a flawless gemstone that is dirty. The best way to clean your diamond jewelry is to soak the piece in a warm solution of mild detergent and water, swishing it around and removing a dirt with a soft brush, if needed, then rinsing thoroughly in warm water and drying with a lint-free cloth.

• Cut is the most important of the 4C's. This does not refer to the shape of the stone, but rather to how light reflects from the diamond's surface to the human eye, determining the brightness, scattering and patterns of light. While it has the greatest responsibility for a stone's beauty, it is the factor least taken into consideration when determining cost. This is the one "C" that you want to capitalize on; buy the highest grade that you can afford (from ideal to premium, very good, good, fair and poor). A cut's proportions can make a smaller diamond appear larger in size.
• Since diamond costs increase in size steps, look for stones that fall just under the popular weights of a half-carat, three-quarter carat, one carat. You'll save a bit of money, and it's difficult to distinguish the difference visually.
• Ensure that a diamond certification, a.k.a. a diamond report that assures the authenticity of the stone will accompany your diamond purchase. This unbiased scientific evaluation by a third-party guarantees the diamond's 4C's – color, clarity, cut and carat weight; the factors that determine the beauty, durability, quality and value of the gemstone. The Gemological Institute of America (GIA) provides Diamond Grading Reports for loose D-Z color diamonds, with plotted diagram of the stone's clarity characteristics and graphic representation of its proportions.
• It's hard to grade a diamond that's already set, as they are graded upside-down.
Getting the Most "Bang for Your Buck"
• Don't presume that you'll get the best price from a national chain. They may have the most plentiful inventory, but all mark-ups are not created equal. Do your homework; compare prices with those offered by an independent jeweler.
At J.R. Dunn, we offer a best price promise on all merchandise.
• Some trends are cost-effective. Consider a sterling silver piece with gold accents. The benefits are many, including the two-tone look's ability to work well with other pieces of precious metal and complement a variety of skin tones.
• Shop with an authorized retailer. You'll be guaranteed to receive authentic merchandise in original packaging, along with manufacturer warranties.
• Look for warranties. We double the manufacturer warranty on all products sold at J.R. Dunn.
Think Outside the Box
There is a wealth of options available when it comes to jewelry.
• If you think custom-design is out of your price range, think again! Some people come to their decision have a piece made-to-order when they don't see anything to their liking, but custom-design can "save" a piece from extinction. Let's say that you inherited a piece of jewelry from a family member that's not your style. Well, you can use bits and pieces from the original, having a designer craft a piece that's more "you!" When you get right down to it, you can't put a price tag on jewelry that has sentimental value… We have award-winning designer Robert Pelliccia on-site to work with you through the entire custom-design process. He leads a team to create one-of-a-kind jewelry that's as individual as the person requesting it!
• Many types of stones come in a variety of colors, including diamonds (from white to black, and everything in-between, such as brown and "fancy" colors like blue, pink, yellow and more), sapphires (check out a rainbow of shades, such as blue, pink, orange and yellow) and topaz (from wine to blue, brown, pale gray, reddish-orange and yellow).
Buying jewelry needn't be like buying a car…it should be an enjoyable experience, with a pleasant partner.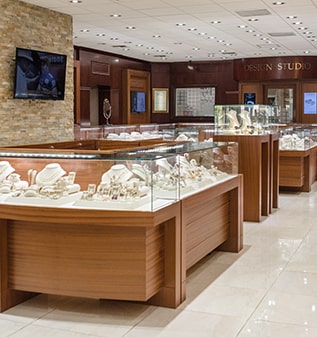 Visit us in real life.
4210 N. Federal Hwy.
Lighthouse Point, FL
33064
Visit us
Store location
Mon-Sat: —
Sunday:

Closed
4210 N. Federal Hwy.
Lighthouse Point, FL
33064
Save up to 15% on your first order.
Receive email updates on stuff you'll probably want to know about, including products, launches, and events. Unsubscribe anytime. Some exclusions apply…