Take 10% off your first order

+ free 2-day shipping with:

BLING10

›
John Hardy Bracelets
John Hardy bracelets are crafted by hand using old world techniques in sterling silver, 18kt yellow gold, diamonds, and exotic gemstones. Some of the bracelets for women are bold and beautiful, and there are others that are delicate. The bracelets for men are more rugged and may incorporate leather and cord. They may be beaded, braided or roped. They can be flashy or simple. Maybe you want to share your faith or remember a special moment in your life. Place a charm on your bangle. A John Hardy Classic Chain silver bracelet is the perfect platform for a charm because it drapes the wrist so nicely. If you want to look good, add a bracelet to your outfit. Let your mood guide you. Bracelets from the Kali collection are smooth and natural, like river stones, while pieces from the Dot collection have a little more flair. The Naga collection brings back the dragon from Asia, and the Bamboo collection is good to Mother Earth. Whether its a coil, cuff, bangle or chain John Hardy bracelets make a great fashion statement. Try one today!
> John Hardy Bracelet Size Guide
> The Limited Edition Macan Cuff Bracelet
> View All John Hardy Jewelry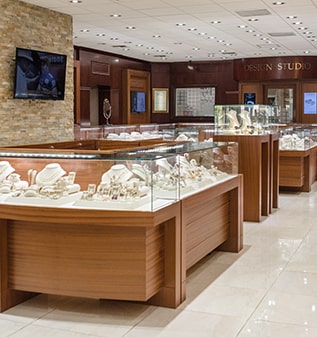 Visit us in real life.
4210 N. Federal Hwy.
Lighthouse Point, FL
33064
Visit us
Store location
Mon-Sat: —
Sunday:

Closed
4210 N. Federal Hwy.
Lighthouse Point, FL
33064
Save up to 15% on your first order.
Receive email updates on stuff you'll probably want to know about, including products, launches, and events. Unsubscribe anytime. Some exclusions apply…