Designer Drop & Chandelier Earrings
Earrings are an essential part of a woman's wardrobe, and drop and chandelier styles – offered in a variety of styles -- can be worn for casual or dressy events. Drop earrings attach to the ear with a thin wire and have a pendant or ornament that hangs in a straight line and sways with movement. They may give the illusion of height and gracefulness. Chandelier earrings are elaborate dangling earrings with various tiers. They start with a stud, widening below the earlobe, often featuring several dangling stones or metal pieces that sparkle as the wearer moves. These longer-length earrings draw focus to your face and provide "the finishing touch" to any outfit. Wear your drop and chandelier earrings every day or for a night on the town. We're pleased to carry high-quality, finely crafted drop and chandelier earrings from some of the world's most popular jewelry designers. Pick a pair to suit your style: dramatic, elegant, feminine, regal or trendsetting.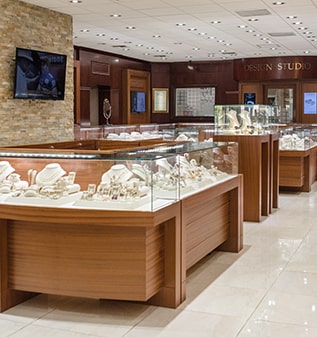 Visit us in real life.
4210 N. Federal Hwy.
Lighthouse Point, FL
33064
Visit us
Store location
Mon-Sat: —
Sunday:

Closed
4210 N. Federal Hwy.
Lighthouse Point, FL
33064
Save up to 15% on your first order.
Receive email updates on stuff you'll probably want to know about, including products, launches, and events. Unsubscribe anytime. Some exclusions apply…