Pearl Earrings - Timeless Elegance from the Ocean
A must have for every woman's wardrobe, pearl earrings have become synonymous with luxury, and sophistication. Pearls come in all different earring styles and pearl sizes. A large pearl earring can be the best earring to pair with that business suit for a business meeting while a dangle pearl earring can be a playful accessory for that night out on the town. There are many other styles of earrings available that highlights the beauty and luster of pearls such as hoop earrings, drop earrings, pearls and diamonds are commonly mixed in pearl drop earrings or dangle earrings. There are many types of pearls that are harvested for jewelry, from freshwater pearls to South Sea pearls, Akoya Pearls and Tahitian Gold or Black pearls. Pearl jewelry is produced in different precious metals such as yellow gold, white gold, sterling silver and rose gold. J.R. Dunn proudly partners with the industry's top pearl jewelry designers
How can I tell if they're genuine pearl stud earring?
First off, when purchasing from J.R. Dunn all of our pearls for sale are real pearl earrings, so there's no need to guess. However, 'Real' and Natural are two different things. The designers we carry offer cultured pearls which are natural, but assisted by inserting a nucleus into the pearl to start the process. So while they're real, they're not unassisted or 100% naturally produced.
Are South Sea Pearls (Black or Gold) natural in color?
Yes. The color of the pearl derives from the type of oyster that the pearl was produced in. These are commonly called black-lipped or gold-lipped oysters. These types of oysters are typically found in the South Sea region; although many refer to black pearls as Tahitian, the Oysters can be found in various regions and not just Tahiti.
Why are larger pearl studs typically priced higher?
Simply, the larger the pearl, the longer it took for the oyster to produce the pearl. For this reason, it is very rare for the quality standards of designers like Mikimoto to be met in larger pearls. Therefore a pair of larger white south sea pearl earrings, white pearl earrings or any of the other south sea variety will always be valued higher.
Can I shower in pearl earrings?
While if you forget to take them off once, it may not damage them it is very likely to. We HIGHLY suggest taking off any pearl jewelry before showering or exposing them to chemicals such as chlorine that may be found in pool water or jewelry cleaner. The reason for this is that Pearls are porous and will absorb things such as chemicals, perfumes or soaps which can not only ruin the integrity of the natural material, but can leave a strong odor as well.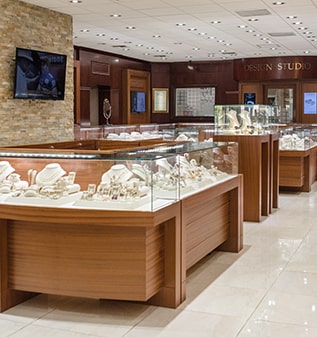 Visit us in real life.
4210 N. Federal Hwy.
Lighthouse Point, FL
33064
Visit us
Store location
Mon-Sat: —
Sunday:

Closed
4210 N. Federal Hwy.
Lighthouse Point, FL
33064
Save up to 15% on your first order.
Receive email updates on stuff you'll probably want to know about, including products, launches, and events. Unsubscribe anytime. Some exclusions apply…