The Platinum Difference
Almost all designs that are available in gold are available as a platinum mens wedding band. These rings will usually be a little bit more costly because a mens wedding band in platinum is going to weigh about 30%-40% more than your standard gold wedding ring. If going for a design in platinum versus another material know that you're getting a ring that is highly durable and resistant to corrosion.

Also, unlike white gold, platinum is a naturally white material. This means that the luster will last longer and the wedding ring will retain its silvery white color without needing to be refinished. This is one reason that platinum is suggested more often than white gold men's rings by our highly knowledgeable staff.

Though there are relatively few, there can be some disadvantages to a platinum gent's ring. Even though platinum is a much more dense material, it is more malleable, which means that if you're very rough on your jewelry or work with your hands the ring will be much more likely to bend and warp.
How do I maintain my Platinum wedding band?
If you bring your ring into our store, our master jewelers can return your ring to like new with a refinishing process. Unlike gold, much of the scratches and wear that a platinum men's ring endures is actually just displaced metal. Therefore your ring isn't losing that most of that precious metal when it scratches, it's just moving around!

When a ring has some space between your finger and ring or your ring has a raised ridge, you may get bacteria underneath ring. This could cause a rash or swelling. You can always use an old toothbrush and some dish soap to clean the inside of your ring in-between complementary cleaning visits to our store.

Whatever precious metal wedding band you choose, know that you're getting something that will last a lifetime. You also have the confidence that the value retention of the wedding ring you're buying will be higher than any alternative metal wedding band.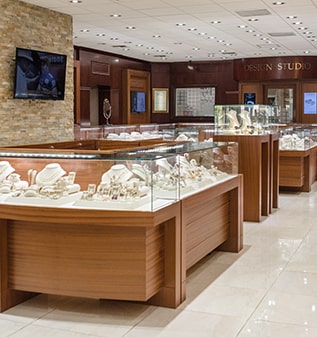 Visit us in real life.
4210 N. Federal Hwy.
Lighthouse Point, FL
33064
Visit us
Store location
Mon-Sat: —
Sunday:

Closed
4210 N. Federal Hwy.
Lighthouse Point, FL
33064
Save up to 15% on your first order.
Receive email updates on stuff you'll probably want to know about, including products, launches, and events. Unsubscribe anytime. Some exclusions apply…