Will the high-polished plain ladies wedding rings scratch?
Yes the will, but because it will spin it will wear evenly. The good news though is that a precious metal wedding band can easily be restored to its original luster with a quick trip to our studio. Trust us, you don't realize the wear your ring takes and we recommend bringing it in every six months, regardless if there are precious stones set in it your not.
Can I put a plain, classic band next to my diamond studded engagement ring?
Of course you can! The style of your band is up to you, and a traditional wedding band without diamonds next to your pave set band can complement it beautifully. We do suggest that you try and keep the widths as close to each other as possible for consistency.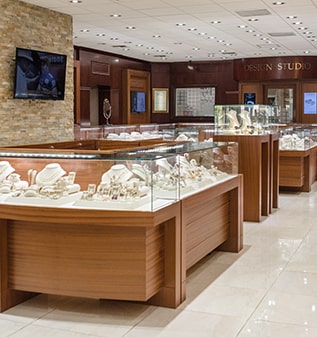 Visit us in real life.
4210 N. Federal Hwy.
Lighthouse Point, FL
33064
Visit us
Store location
Mon-Sat: —
Sunday:

Closed
4210 N. Federal Hwy.
Lighthouse Point, FL
33064
Save up to 15% on your first order.
Receive email updates on stuff you'll probably want to know about, including products, launches, and events. Unsubscribe anytime. Some exclusions apply…