How many rings should I wear together?
If you're looking for something different from the traditional engagement ring and wedding ring pairing, there is a rule of thumb to follow. When it comes to design in general, odd numbers tend to look better together. Although everyone's finger length is different, a triplet of stackable rings or quadruple rings featuring mixed metals and styles would be the most common.

We also suggest you try moving your engagement ring to your right hand and wearing your stack on your wedding ring. This provides you the ability to show off the ring your loved one proposed to you in, but allowing you to stack without having to match it. This gives you the versatility of showing off your unique married look to the world.
Do I have to stack different precious metals together?
While we love the look of rose gold, white gold and yellow gold mixed together, ring stacks are meant to reflect your personal style and individuality. There's nothing wrong with stacking just one metal type or highlighting just two tones on your fingers. The only thing we don't suggest is mixing a platinum ring with other metals as this could lead to dangerous wear to the rings of less-dense materials.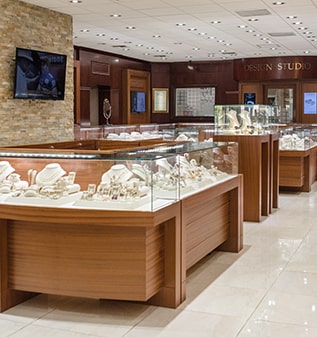 Visit us in real life.
4210 N. Federal Hwy.
Lighthouse Point, FL
33064
Visit us
Store location
Mon-Sat: —
Sunday:

Closed
4210 N. Federal Hwy.
Lighthouse Point, FL
33064