What makes gives rose gold it's reddish or pinkish hue?
Rose does not exist as pure gold in the Earth. All pink, red, or rose gold is yellow gold mixed with copper and other metal alloys to change the color. Rings that are stamped with 18k gold or 750 contain less of these alloys, leaving the ring approximately 75% of gold. 14k or 585 means that there is 58.5% gold content and the rest is the other alloys.

Women's wedding rings in rose gold can differ in color if they are made by different designers or manufacturers. While the color likely won't be a huge difference, each designer has a different mix of materials and the hue could be slightly different. Don't worry though, our exchange or return policy gives you the peace of mind.
Are these rings plated like white gold rings are?
No, rose gold is not plated. For much of the ring's life it will retain a rosy color, however as it wears it can fade a bit. If you've noticed that your ring has begun to fade, it can be brought back to a brighter pink. We suggest having your ring polished and refinished by our jewelry studio to return it back to it's shiny, rose luster.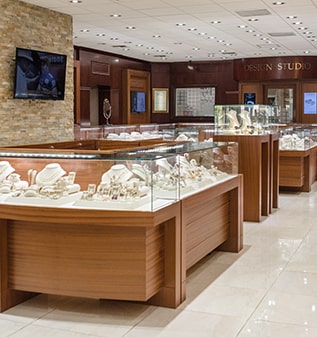 Visit us in real life.
4210 N. Federal Hwy.
Lighthouse Point, FL
33064
Visit us
Store location
Mon-Sat: —
Sunday:

Closed
4210 N. Federal Hwy.
Lighthouse Point, FL
33064
Save up to 15% on your first order.
Receive email updates on stuff you'll probably want to know about, including products, launches, and events. Unsubscribe anytime. Some exclusions apply…