How does Platinum wear opposed to white gold?
All white gold jewelry is rhodium plated regardless of whether it's stamped 18k gold or 14k gold, whereas Platinum Jewelry never is. Your Platinum ring will scratch, but stay white for its entire lifetime. Another good thing is that it's highly resistant to corrosion and hypoallergenic.
Can I wear Platinum next to Gold (Yellow, White or Rose?)
While you can, we definitely don't recommend it. The fact is that Platinum is a much more dense material and it will lead to any gold engagement ring you stack next to it will wear away faster than if it were stacked with a platinum wedding ring. A simple rule here is Gold with gold of any color and Platinum with Platinum.

Of course, if they're going to be on different fingers, then wear together with no risk!
Why is the same ring in Platinum a higher price point than gold?
If you compare rings in person, platinum wedding bands typically weigh somewhere between 30-40% heavier than their gold counterparts. So when deciding on your ring, know that when you select something platinum you're going to get something that feels much more substantial. This is why Platinum is priced higher than gold.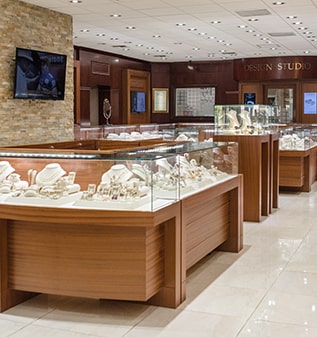 Visit us in real life.
4210 N. Federal Hwy.
Lighthouse Point, FL
33064
Visit us
Store location
Mon-Sat: —
Sunday:

Closed
4210 N. Federal Hwy.
Lighthouse Point, FL
33064
Save up to 15% on your first order.
Receive email updates on stuff you'll probably want to know about, including products, launches, and events. Unsubscribe anytime. Some exclusions apply…